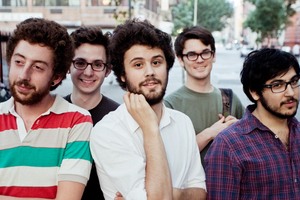 Don't be fooled by the sunny synths, infectious melodies and happy vibes - there's a dark underbelly running through Passion Pit's second album.
"I'm just too much of a coward to admit when I'm in need," sings falsetto-loving front man Michael Angelakos on Take a Walk, Gossamer's otherwise chirpy and cheery opening track.
Like most of Angelakos' lyrics, they took on a more sinister vibe when he admitted to Pitchfork that he was bipolar and couldn't remember large chunks of the album's creation, saying: "I'm on suicide watch all the time."
It could get depressing but Angelakos wraps his troubles up in sugar-coated pop hooks, like the infectious chipmunk samples and electro shambles of I'll Be Alright, the goofy throb of Carried Away and the uplifting love song Hideaway.
Constant Conversations proves the Americans know their way around a stadium-sized "oh oh ooooh" hook, while Cry Like a Ghost is the album's centrepiece with its slurred dubstep throb erupting into a gigantic 80s-style chorus.
Aside from a few annoying lyrics - "Tomorrow you'll cook dinner for the neighbours and their kids" is among the worst - Gossamer is shimmering summer pop of the highest order, with plenty of hidden messages if you want to go digging for them.
We'll just have to take Angelakos for his word when he sings, "Don't call me crazy, I'm happy".
Stars: 4/5
Verdict: Darker tones infuse otherwise summery second album.
Buy a copy of Passion Pit's Gossamer, here.
- TimeOut