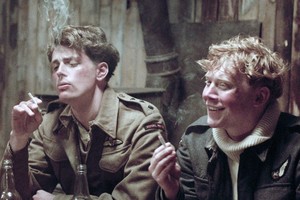 It might be set in the early days of the German invasion of Scandinavia but this Norwegian flick starring Rupert Grint in his first post-Ron Weasley role is the gentlest of war films.
It's actually that war movie offshoot, the truce movie - about what happens when foes put aside their weapons and face each other in no-man's land.
In this case, that's a snowbound Norwegian hut where the surviving crew of a crashed Heinkel bomber and the two-man crew of a Fleet Air Arm Blackburn Skua which shot them down, then also crashed, find themselves as cabin mates. They bicker for a while, point pistols at each other, then bury their differences in order to survive.
It's based on a true story. Though it's the sort of movie which compels you to look up what actually happened, as what's on screen contrives to have the quintet deliver a clumsy debate about why the two sides are at war in foreign territory, rather than play on the uneasiness of the truce or develop the characters much beyond their national stereotypes.
The real story is quite a yarn but this take on it lacks much to remember it by. And once they start breaking up the furniture for the fire, you do start to wonder if some of the more wooden performances - Grint's included - might also be used as kindling.
So no, not a great war - or indeed truce - film. But it's still mildly engaging. So if Grandad took you or your kids to Motat's aviation hall the other weekend, dragging him to this might well return the favour.
Stars: 3/5
Cast: Rupert Grint, David Cross, Florian Lukas
Director: Petter Naess
Rating: M (offensive language, content may disturb)
Running time: 100 mins
Verdict: It's Weasley vs the Nazis!
-TimeOut