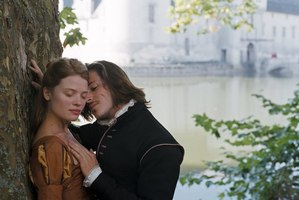 Based on the 1662 novella by Madame de la Fayette, veteran French film-maker Bertrand Tavernier presents a sweeping period romance with all the trappings - vast vistas, exquisite costumes, heaving breasts and swashbuckling heroes. The Princess of Montpensier is a well-crafted, elegant and entertaining film that, though a little long, is perfectly suited for rainy Sunday afternoons.
It's set in 1562 against the backdrop of the French Huguenot-Catholic conflict, though it's no history lesson - Tavernier's trick is to make you feel you're watching something more substantial than what's really on offer. The settings, costumes and customs feel authentic and there is enough politics, history and sword-swishing battles for a historical drama - but The Princess of Montpensier is really just a good, romantic bodice-ripper.
The bodice belongs to the young and beautiful Marie de Mezieres (Thierry).
In love with her dashing cousin Henri de Guise (Gaspard Ulliel), Marie is nevertheless married off to the Prince of Montpensier (Gregoire Leprince-Ringuet) in a political alliance.
She also catches the eye of the future king, the Duke of Anjou (Raphael Personnaz), and when her husband is called away to battle Marie is left in the care of the worldly Count Chabannes (Lambert Wilson) who also falls in love with the young princess. Obviously, few can resist this exquisitely dressed young lady.
The dilemma for Marie and her admirers, and the heart of the film, is the tension between duty and passion. They inhabit a complicated world of shifting alliances and consequences, which Tavernier gives us more than ample enough time to grasp, temporarily slowing down this steadily paced story.
Passionate performances by the players keep proceedings lively, and Thierry does a terrific job as Marie. She might be a helpless pawn in her father's politicking but despite her subjugated status Marie is presented as an individual, a proud, passionate, inexperienced teenager recognisable even this century.
The Princess of Montpensier is pleasant viewing that asks little of its audience. The downside of this lack of emotional punch is the handsome film just isn't terribly memorable.
Stars: 3.5/5
Cast: Melanie Thierry, Lambert Wilson, Gaspard Ulliel
Director: Bertrand Tavernier
Running time: 139 mins
Rating: M (Contains violence and sex scenes)
Verdict: Perfect Sunday afternoon romantic escapism
-TimeOut