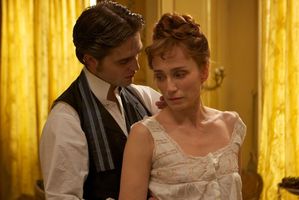 Robert Pattinson has had mixed success building on his Twilight fame, and he again looks lost in this adaptation of Guy de Maupassant's saucy tale of illicit liaisons in late 19th century Paris.
Pattinson plays Georges Duroy, a destitute young soldier who secures his place in Parisian society by using his brooding good looks to seduce the wives of powerful and wealthy men.
The conquests include characters played by Uma Thurman, Kristin Scott Thomas and Christina Ricci; it's an impressive list but, unfortunately for Pattinson, his performance is devoid of the charm and wit required to convince us he could have really managed this.
The period setting may have put Pattinson off - perhaps his bedroom eyes only work when he's wearing fangs - as he never relaxes into this role as a pretty-faced 18th century cad, and too often confuses sexy with sleazy.
The charming female co-stars encounter no such limitations, and understand that this English version of French literature is meant to be light-hearted and melodramatic.
Thurman plays the politically minded wife of a journalist who takes Georges under her wing and uses him to achieve her own political aspirations. While she tends to ruminate over France's impending invasion of Morocco as she rolls around the bed in a corset, she's possibly a more interesting figure than Georges.
Christina Ricci comes the closest to generating chemistry with Pattinson, most likely because her character falls in love with Georges, and Scott Thomas doesn't appear to be fussed that her character is Georges' oldest conquest and yet must act the youngest and silliest. No matter how well these ladies commit themselves to their roles, they can't save this film.
Bel Ami could have been well-dressed, saucy escapism but as far as costume dramas go, it's big on costumes and woefully short on drama. Serial adultery aside, Georges' character never really develops and Pattinson's indifference to his own character rubs off - he's no more likeable at the conclusion of this film than he was when we first met him.
Stars: 1.5/5
Cast: Robert Pattinson, Uma Thurman, Kristin Scott Thomas, Christina Ricci Directors: Declan Donnellan, Nick OrmerodRunning time: 98 mins Rating:M (sex scenes and offensive language)
Verdict: A weak performance by Robert Pattinson lets the side down.
-TimeOut