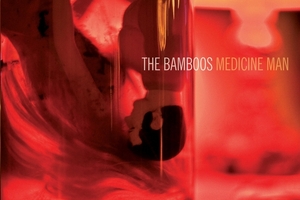 Having played as the backing band for visiting artists like Alice Russell, Eddie Floyd, and Betty Harris, you could say that The Bamboos are kind of like the Australian Dap Kings.
But though they're accomplished musicians, and a tight nine-piece band, easily mixing modern RnB, soul and funk, they don't quite have the verve or punch of the Dap Kings. And when it comes to original compositions, the real spark of magic they're after proves a little elusive.
On this 11-track album they've got guest vocalists like Aloe Blacc, Megan Washington, and Tim Rogers, plus their own vocalists Kylie Auldist and Ella Thompson. It's definitely more in the soul-pop vein than their previous releases, appealing to the Mayer Hawthorne fanbase, though lacking his snappy swagger, and convincing authenticity.
But though the album is a little slow out of the gates (the lacklustre cover of James Blake's The Wilhelm Scream does nothing for the album), by the time they get to Midnight featuring Bobby Flynn, they've better hit their stride.
Tight, good-time, party-starters are their strength, though unfortunately they veer towards mediocre pop with the last two tracks, using a more synthesised sound and lots of 90s-ish female vocals.
There are a number of well-produced tunes on here that make for pleasant pop-soul listening, but as a whole the album is too pedestrian to compete with Blacc, or Hawthorne, or even Amy Winehouse or Cee Lo Green.
- TimeOut