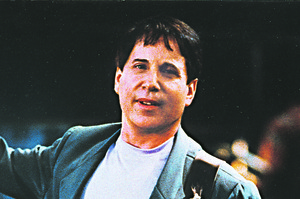 Last Sunday, despite inclement weather and noise restrictions, which had people hushing others, Paul Simon performed to tens of thousands in London's Hyde Park, he and a big band playing songs from his massive-selling Graceland album of 1986.
The concert celebrated that album's sophisticated blend of lyricism and African sounds and was also perhaps a vindication for Simon, the message being that music triumphs over division. Twenty-five years ago Simon was being castigated by the likes of Billy Bragg, Jerry Dammers of the Specials (who had recorded Free Nelson Mandela two years earlier), Artists Against Apartheid and the African National Congress for breaking the United Nations-imposed cultural boycott on apartheid-era South Africa when he worked with African musicians in Johannesburg.
Looking back, Graceland came from a very different world. South Africa was an international pariah for its racial segregation and words like "bantustans", "passbook" and "embargo" - which have largely fallen from the language today - were widely discussed.
Simon had been given some South African "township jive" and in the sound he heard something vaguely similar to the rhythmic pulse of country music.
His career was in a low patch - decent sales of solo albums after splitting with Art Garfunkel, but a conspicuous failure with his Hearts and Bones album and film - and in this music he found fresh inspiration.
He went to Johannesburg (he said at the musicians' invitation), sought out a core of fine players and started recording. And, simple though that seems, that was his first mistake, although the DVD Under African Skies, which comes with reissued editions of the album, shows Simon and the musicians having a great time.
He'd asked the local musicians' union for permission but deliberately hadn't approached the ANC (as his friend Harry Belafonte suggested) and his action meant he had broken the cultural boycott. Then Los Lobos - who had contributed to All Around the World - said they should have had co-writing credit and called their lawyer.
Yet on release, while controversy swirled around it, Graceland's infectious music and cross-cultural reach raced up charts all over the world. It has sold over 15 million copies, Simon considers it "the most significant achievement of my career" and its influence advanced the notion of world music.
It also brought singer Miriam Makeba and trumpeter Hugh Masekela (who performed Free Nelson Mandela at Hyde Park. Doesn't he know?) back into the spotlight. Both were in exile from South Africa at the time and appeared on Simon's subsequent tour.
Today you can hear Graceland's influence in the music of Vampire Weekend, Simon's lyrics still sound relevant ("the bomb in the baby carriage was wired to the radio" in The Boy in the Bubble) and even songs like Homeless (with Ladysmith Black Mambazo) have a life-affirming quality. The album loses magic in the zydeco-flavoured That Was Your Mother with Rockin' Dopsie, and the Los Lobos song, but otherwise it is bottled magic.
The slightly belated 25th anniversary reissue comes as a single disc, a double disc with the original album and some demos and the DVD, and a handsome box set of two CDs (bonus tracks, alternate versions and Simon telling his story) plus DVDs (the doco and an '87 concert in Zimbabwe), books of handwritten lyrics, photos and more.
In the doco Under African Skies, Simon - now looking every day of 70 - still sounds defensive about the criticisms, but the second he is with the African musicians in studios or on stage, Graceland's music, as confirmed last Sunday, is timeless.
Stars: 5/5
Verdict: The question over the genius of Graceland remains: Does the end justify the means?
- elsewhere.co.nz / TimeOut