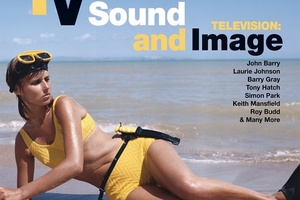 If you ever thought lounge music was just, well, purely music to lounge around to, then get a load of the mean and gritty 10-minute-plus opus of The Harry Roche Constellation's Spiral on this new compilation. The 1973 tune simmers and swoons, then in come wild twanging and fast strummed guitars, some streetwise brass, followed by some sweet soul jazz music, before it repeats it all over again. It's inspired, head-nodding, and groove-generating stuff, though it sure owes a debt to Issac Hayes's 1969 classic Hot Buttered Soul.
The song is one of the many highlights of this 36-track album which features Britain's finest TV, film and library composers from the period of 1955-78 - who also happen to be responsible for some of the best lounge and easy listening music around.
There are many tunes and themes you are sure to recognise, like C.C.S.'s distorted and brassy lounge version of Zeppelin's Whole Lotta Love (the theme to Top of the Pops), Alan Parker's Angels (from the 70s British nursing drama, that, thinking about it now, could have inspired Shortland Street), and prolific James Bond theme and film score writer John Barry is featured with his menacing theme to 1971's The Persuaders.
However, as the curators of this collection point out, this is not a "stroll through the TV memories of the mind". This is a serious - but highly entertaining - meander through the influential canon of songs created by these composers, with a special focus on lesser known names such as the Reg Tilsley Orchestra (with the zany brass of Strike Rich) and Keith Mansfield whose loping, piano-driven Soul Thing is like a ragtime tune-meets-brass band serenade.
Every track is a killer, and other highlights, apart from Spiral and many of the well-known catchy ones, include Keith Papworth's fun-loving funk and bubbling bass tune Hardhitter and the lounge soul of Bullet's The Contract Man. This is more than just music to mooch too.
Stars: 5/5
- TimeOut