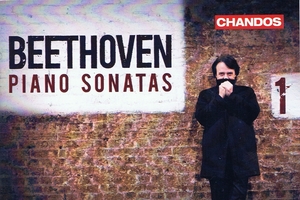 Jean-Efflam Bavouzet: Beethoven Piano Sonatas 1 (Chandos, through Ode Records)
Vladimir Ashkenazy: Rachmaninov (Decca)
Verdict: Memorable Beethoven with Gallic elegance and lacklustre Rachamninov that needs more fervent advocacy
Jean-Efflam Bavouzet looks positively coy on the cover of his new Beethoven set and lightness and humour abound throughout the three discs. The French pianist made his name with Ravel and Haydn, and the older composer comes to mind when the opening theme of the first Sonata shoots elegantly upwards.
The following slow movement is Haydnesque, yet its lovingly tended phrases, swathed in rubato, suggest a Romantic Age beckoning.
Revelations are many. On the same disc, the witty Finale of a C major Sonata pits gleaming passagework against lean, almost sketch-like episodes.
How beautifully Bavouzet gauges the massive chords that introduce the Pathetique Sonata and what a drama-filled narrative he makes of its first movement.
A slightly later C minor Sonata (Op 10 no 1) can seem prosaic in the wrong hands; here it has fire and fervour. A few tracks on, a playful F major Presto sounds as if the composer is trying to contain a cheeky fugue in a pressure-cooker.
At the other end of the spectrum, a D minor Largo e mesto is imbued with a sense of deep tragedy, laid out note by anguished note.
As a bonus, Bavouzet offers two movements from Opus 10 no 1 that fell on the cutting-room floor, one a fascinating glimpse of some extra working-out that the composer intended for its Rondo.
Bavouzet is in his prime and further Beethoven volumes are eagerly awaited; Vladimir Ashkenazy's new Rachmaninov CD is a venture the pianist should have undertaken 40 years ago along with his other classic recordings of this composer.
The Variations on a theme of Chopin seem rushed and prosaic. The seventh offers a glimpse of Rachmaninov's trademark melancholy but, around it, there is too much arid note-spinning.
The less-than-inspired First Sonata needs more bravado to free it from the page. One is simply too conscious of Ashkenazy's intense concentration, especially in the trilling close to the second movement. Time, it would seem, to put aside the keyboard for the baton.