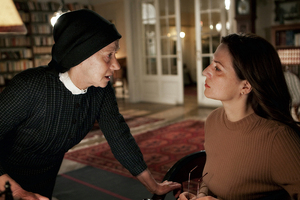 The Hungarian maestro Szabo's career reaches back into the 1950s, peaking with a magnificent trilogy of films in the 1980s (Mephisto, Colonel Redl and Hanussen) in which Klaus Maria Brandauer played characters whose moral scruples collapsed under the weight of their ambition. But this visually handsome adaptation of a noted novel by Magda Szabo (no relation) is a serious misfire.
Set in communist-controlled Hungary between 1961 and 1975, it traces the relationship between an ageing washerwoman Emerenc (Mirren, heroically unglamorous) who is taken on as a housekeeper by novelist Magda (Gedeck, the tragic heroine of The Lives of Others) and her office-worker husband Tibor (Eperjes).
If her opening gambit - she asks them for references - is not warning enough, Emerenc soon shows a predilection for behaviour that lies somewhere on the spectrum between tactlessness and Tourette syndrome. She orders them around, appears without warning in their bedroom, spurns displays of affection.
The childhood trauma in her past, hinted at early on, is revealed before the film's mid-point but it's still hard to understand why Magda doesn't just sack her: perhaps good help was hard to find.
As Emerenc's back-story emerges (and the title is explained), the tale takes on a novelistic complexity that simply doesn't work within in the tight confines of a film. The staccato narrative rhythm - scene after scene lasts only four lines or so before fading out or cutting away - keeps leaving the viewer scrabbling to fill in gaps and the editing is so jerky that at times the film plays like a trailer for itself.
Narrative holes abound, too: why a certain set of photos was allowed to burn and what became of another set, which was pocketed, are matters never explained. Perhaps the story worked better within a novel, but despite Mirren's commanding performance the film doesn't really deliver.
Stars: 2/5
Cast: Helen Mirren, Martina Gedeck, Karoly Eperjes
Director: Istvan Szabo
Running time: 97 mins
Verdict: A staccato narrative with more holes than Swiss cheese.
- TimeOut