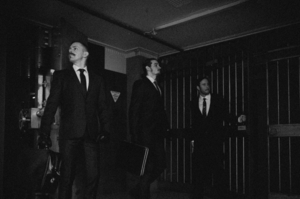 With the recent online-only release of Christchurch band Factories' The Supreme Cosmic Consciousness Births a Star Child in Negative Space album and now this tripped-out cosmic rock journey by Wellington trio Sunken Seas, it seems there's some acid tinge in the local water.
If Factories offered a dreamscape astral trip, the discordant and aurally dense Sunken Seas straps you to the outside of the rocket for the full thrust of blast-off, white heat of the engines and bone-rattling surround-sound.
With the intensity of the Bailterspace-to-Jakob lineage, this is part post-rock and part prog-noir, which pulls you in to the vortex and - especially on the swirling intensity of Photographs of the Dead - thrashes around like some creature in Alien, full of malice and fury. It can be utterly thrilling, yet they also offer a spaciousness to let you breathe (A Breed, the portentous and slow Joas).
Not everything works (the somewhat directionless You Might Have Been and The Hum, both with distant Joy Division vocals) but Sunken Seas will tour soon to back this up.
You may consider that a warning, but it's an invitation into cathartic noise, chest-thumping volume and an impressive ride into darkness. Play loud.
Stars: 4.5/5
Verdict: Power trio celebrate the darker sonic arts.
Buy a copy of Null Hour here.
- TimeOut / elsewhere.co.nz