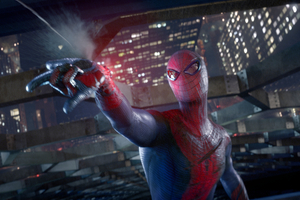 Call it what you want - a re-boot, a re-invention, or probably more appropriately, just having another crack at it - but there's no doubt with a new director and cast on board, The Amazing Spider-Man swings this franchise back into life.
It's been five years since Tobey Maguire as Spidey last web-slung his way across our screens in director Sam Raimi's Spider-Man 3. Raimi's adaptation of this classic Marvel comic began in 2002 and even though all three films were commercially well received, it was clear after the third film, a re-think was needed. Raimi and Maguire were initially interested in a fourth film but pulled out in 2010 and in stepped director Marc Webb (yes, seriously, his real name) and British actor Andrew Garfield (The Social Network).
The result is a film that stands up against its predecessors, is an improvement on Spider-Man 3 and has the added bonus of 3D technology to make the action that much more exhilarating. The Amazing Spider-Man returns to the beginning of Peter Parker's story and his transformation into Spider-Man, but it's not a prequel, as a lot of this material has been covered before, nor is it hugely different from Raimi's vision.
Rather it's a fresh take on events with subtle differences; for example Webb introduces us to Peter's parents in flashbacks for the first time, and his love interest isn't girl next door Mary Jane, but fellow student Gwen Stacy (Stone) who featured in Spider-Man 3.
A high school student, Peter becomes interested in the mysterious death of his parents in a plane crash and his father's secretive scientific work. His curiosity leads him to the Oscorp research laboratories where his father worked alongside Dr Curt Connors (Ifans), and fellow student Gwen Stacy is an intern. It's there Peter has an encounter with a spider giving him his arachnid-like superpowers which he uses, initially, to find the murderer of his Uncle Ben (Martin Sheen).
It's also at Oscorp that Dr Connors conducts cross-species genetic tests on himself, accidentally becoming Spider-Man's first supervillain, The Lizard.
Andrew Garfield steps into the spandex suit with ease. His Peter is studious and slightly socially awkward, but rather than being a nerd, he's just a good guy with a skateboard and a camera who likes to keep to himself. It's great fun watching him discover his Spider-Man powers and laughing at the cheeky confidence they give him, and Garfield has a genuine rapport with his fellow cast mates Sally Field as Aunt May and Sheen. He also has plenty of on-screen chemistry with his off-screen girlfriend Emma Stone.
With just the charming indie rom-com 500 Days of Summer to his name, Webb is relatively inexperienced to take on a big budget 3D special effects blockbuster and yet his handling of the action is a revelation. Spider-Man's aerial work is heady stuff as we literally swing and swirl alongside him through the streets of NYC - if you're in Auckland its worth seeing this film in the Imax theatre, although unfortunately the CGI Lizard doesn't appear quite so seamless on this big screen.
Plenty of what you'll see in The Amazing Spider-Man will be familiar and as you'd expect from a superhero comic book adaptation, a little cheesy at times. However Webb has successfully added some depth and darkness to Peter Parker's back-story, presented us with characters who are easy to invest in emotionally and thrilled us with impressive highflying action.
Regardless of what you want to call this film, as far as new beginnings go - and this is clearly the beginning of another series - it's a pretty good start.
Stars: 4/5
Cast: Andrew Garfield, Emma Stone, Rhys Ifans
Director: Marc Webb
Running Time: 137 mins
Rating: M (Violence)
Verdict: As far as new beginnings go, this is a pretty good start The Amazing Spider-Man injects some new life into the superhero story.
- TimeOut