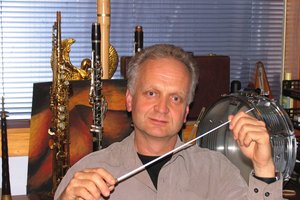 Every so often, Peter Scholes lifts an Auckland Chamber Orchestra concert to a new plateau through a stellar turn by the evening's soloist. On Sunday, Friedrich Gulda's Cello Concerto, a work idiosyncratic to the point of wacky, was the perfect vehicle for the
brilliant Santiago Canon Valencia.
Gulda's own admonition, "Whatever swings is good, whatever doesn't is bad, or at least surplus to requirements," energised all involved.
The orchestra - mainly brass and woodwind - went into celebration mode. The brass punched out riffs that could have slipped from a Lalo Schifrin TV theme while Shane Currey tore into his drum kit.
It was lederhosen and edelweiss time with the woodwind's yodelling Landler, and John Philip Sousa's spirit hovered over an uproarious oom-pah Finale.
For Valencia, it was like a workout in a musical gym, veering effortlessly through the treacherous lines of the Overture, firing away in almost demented moto perpetuo over the closing March.
The Idyll came with just the right degree of gemutlich sentimentality and while the eight-minute Cadenza ranged from crooning double-stops to fire-siren glissandi, the clear-cut lyricism of its opening revealed Valencia's very special musicianship.
A short Chaconne by the American Jonathan Leshnoff, especially composed for this year's Johansen International String Competition, was Santiago's encore - played with the same cool assurance that took the 16-year-old to second place in this event just six weeks ago.
Earlier in the concert, Peter Scholes' own Relic exerted a certain evocative power, benefitting from a version that strengthened its string component.
Occasionally diffuse and too abrupt in its shifts, it was nevertheless a showcase for the graceful Yi Jing, her harp creating unexpectedly gamelan-like colours with Shane Currey's rototoms.
Richard Strauss' Le Bourgeois Gentilhomme Suite, which opened the concert, was a mite ambitious, with strings not always able to come up with the Viennese cream that this composer demands.
A little more sighing and swooning would not have gone amiss in this score, although even Strauss benefitted from a star turn - cellist Eliah Sakakushev's gorgeous solo in the Andante of the final movement.
What: Auckland Chamber Orchestra
Where: Raye Freedman Arts Centre