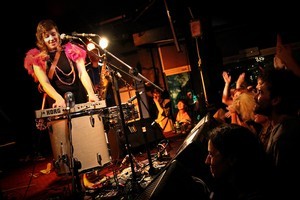 There are gigs where you know you are seeing an artist in a more intimate setting than you'll ever see them again; next time they pass this way they will have outgrown the venue in fame and scale. Last Thursday at the Kings Arms felt like one of those gigs, with Tune-Yards' first ever show in the Southern Hemisphere.
Tune-Yards is the performing name used by Massachusetts-born, Oakland-based Merrill Garbus, initially for her lo-fi solo recordings; now for the sophisticated four-piece band she leads.
With her lopsided haircut, white stripe of war paint across her cheek and some extraordinary fluffy thing adorning her shoulders, Garbus greeted the crowd warmly and, banging time on a pair of tom-toms, launched into a passionate Do You Wanna Live? which set the life-affirming tone of the evening. And her generosity as a performer was returned by a crowd that - to her apparent surprise - were familiar with the great songs from her two albums, Bird Brain and who kill.
After the solo intro she was joined by her tight combo of electric bass and two saxophonists, and the temperature of the music and the room just kept building through an 80-minute set that defied you to keep still.
Though Tune-Yards comes via indie-rock channels (they are signed to iconic indie label 4AD), they clear draw much inspiration from African music. Horn riffs reminiscent of Fela Kuti match the political and social undertone of Garbus' songwriting. Even her hardest songs escape the tyranny of the traditional rock backbeat with intricate polyrhythms.
Live, as on disc, Garbus builds her arrangements with the aid of a sampler. She starts with a simple figure, which she creates either with drums, ukulele, voice, or (in one instance) the audience's handclaps, looping it electronically into a continuous rhythm before stacking on more parts. It's a technical feat, yet rather than feeling we are watching a boffin in her studio, I was reminded of James Brown dancing the rhythm, making sure the groove is right before launching into the body of the song. Using samplers in real time is not uncommon - locals like Andrew Keoghan and Liam Finn do it to great effect - but I have never seen sampling used onstage to create quite the funky momentum of Tune-Yards. Nor did the technology constrain the music. Several songs - such as the anthemic Bisness - were effortlessly stretched beyond the tight structure you will find on the record.
There was a strong physicality to the whole thing, from Nate Brenner's muscular basslines to the sax section's sudden John Zorn-esque outbursts of controlled frenzy. But most of all it was Garbus' voice that communicated so powerfully; leaping intervals like some exotic birdcall, effortlessly negotiating her strong, unpredictable melodies, it pulled everything into focus. The technology might be modern, her music innovative and fresh, but the singing tapped something ancient.
Who:Tune-Yards
where: Kings Arms, Auckland
when: Thursday 12 January