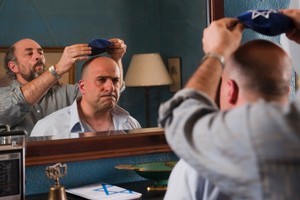 This knockabout British comedy has good intentions: to confront the horrors of Arab-Israeli relations by laughing at them.
But it's both heavy-handed and faintly incoherent - in some sections it feels like the cast are making up their lines, like Whose Line Is It Anyway? with not so many funny bits.
Djalili, the excellent British-Iranian stand-up comedian, plays Mahmud Nasir, a none-too-strict East End Muslim minicab driver who discovers he was actually adopted at birth and his real name is Solly Shimshillewitz.
Unsurprisingly, this discovery sparks something of an identity crisis. It also turns a sworn enemy - his American Jewish neighbour Lenny Goldberg (Schiff) - into a sudden ally.
Goldberg shows him the essence of Jewishness (not Judaism, mind; this comedy keeps it simple) by lending him Portnoy's Complaint and teaching him how to shrug and say "Oy vey!"
Complicating matters is the fact that Mahmud/Solly is father to Rashid (Shah), who is courting the daughter of a fundamentalist Muslim cleric (Naor), a figure the film's satire conspicuously and tellingly steers clear of.
Domestic discord and suspicion ensue.
There is a small handful of excellent one-liners in David Baddiel's script - the best, delivered to a security guard just after he finds out his birth name, is "You find you're Jewish and then suddenly a man in uniform is leading you away."
But the film as a whole lacks any real satiric bite. Having given itself permission to trade in pretty broad stereotypes, it was obliged to skewer them more precisely than it does.
Stars: 2.5/5
Cast: Omid Djalili, Richard Schiff, Amit Shah, Igal Naor
Director: Josh Appignanesi
Running time: 105 mins
Rating: R16 Contains offensive language and content that may offend Verdict: Saccharine satire
-TimeOut