The Fry Chronicles
by Stephen Fry
Michael Joseph, $46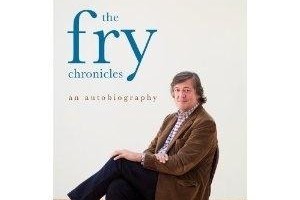 Actors writing memoir has a long and velvet-upholstered history. For every sharp and insightful memoir by someone like David Niven, there is a clutch of others which appear as nothing so much as adoring mirrors.
The word "ghost-written" appears on the glassy surface like the mother-in-law of some phantasmal Liberace. All is accompanied by the sound of applause off stage and ancient triumphs are relived before an ever-increasing - or is it - diminishing? - audience.
The Fry Chronicles is Stephen Fry's second outing with memoir. This is highly unusual. His first, with the memorably idiosyncratic title of Moab was My Washpot, was well received. This is partly because Fry is a gentlemanly kind of chap, hard to dislike. He has also been more than usually candid about his fight against depression. But it's more than this.
Fry is actually a writer. The Fry Chronicles spells this out. When he is asked who is his role model in theatre, he answers, disarmingly, Alan Bennett.
(He also relates the tale of his nerves when he unexpectedly had to audition before the great Bennett. I will not divulge the denouement.)
Fry knows enough to spice his tale with starry chatter. We find Lindsay Lohan being carried out in a stretcher from Chateau Marmont as he works on a script with Peter Jackson. (The subject was Dambusters: the words a "marriage made in hell" come to mind.)
So on one hand we have a stereotypical actor's memoir. We below-stairs folk are allowed to peer through the banisters as the starry folk go about their extraordinary business.
We are introduced to Emma Thompson and Hugh Laurie before their successes. We go along with Fry on his terrible auditions, his self-doubts and his private agonies.
But this is where this book parts from the stereotype. He introduces a level of candour about his own interior life.
This acme of the English gentleman is actually half-Jewish and as everyone knows, apart from people locked in basements for the last three decades, gay. But he is also, he hastens to tell us, self-hating, disinterested in sex, full of agonies.
This is the norm for the "misery memoir". Fry is but a novice in this genre. (When he left this memoir with the cliffhanger promise of a third volume, which would deal with his coke addiction, I have to admit I needed to have a good sit down and a cup of camomile tea.)
Is the good man a lunatic? Does he not know the heroic depths he will have to go to, to surpass the crowded shelves of shriven addicts? Does he not know that the best of the genre haven't actually suffered these addictions? They just knew a pretty penny when they saw it.
I hesitate to say that Fry who, alas, did not reach the Olympian heights of playing a grumpy doctor on primetime US television, has his sights fixed on similar pretty pennies. In a way, this is why this book is what was once called a curate's egg: uneven in parts.
When he riffs on his faults - "physical awkwardness, reliance on speech, tendency to choose ironic ruefulness over raw emotion" he puts his finger on exactly what is missing here. It is all performance, disarming, rueful, sweet, "candid" and just the teeniest, weeniest little bit of a fake.
- Peter Wells is a Hawkes Bay writer.