London has unsurpassable high street shopping and it's almost impossible to avoid spending up large in these meccas of affordable, on-trend fashion. But if you'd like to return home with something a bit more unique, head for Camden Passage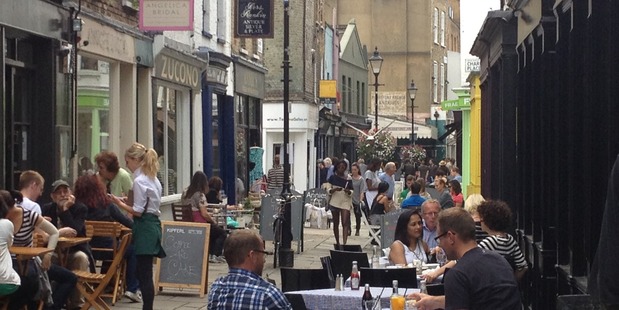 Not to be confused with Camden Market, or in fact Camden at all, Camden Passage is hidden down a cobbled Islington back street and offers a never-ending supply of one-off (mostly) vintage goodies. From fascinating market stalls and refined antique shops to great restaurants and fashionable cafeterias, it's worth putting aside a full day to eat, browse its treasures, and chat with its antique traders - most of whom are specialists.
You're bound to find the perfect treasure to remind you of your trip, long after that Topshop dress has passed its use-by date. But first, here's what you need to know:
Where:
Camden Passage, Islington, London N1 8EE. Catch the Northern Line to Angel, then make your way northwards on Upper Street until you reach the Passage.
Vital info:
Haggling is expected, so don't be shy. A lot of the smaller shops and stalls are only open on Wednesdays and Saturdays, however the bigger antique furniture shops may open on other days - just ring the bell to see.
Every Sunday the Passage hosts a farmer's market, too.
Highlights:
Camden Passage Antiques Market
Whether you're after art deco jewelry, 1950s cashmere, vinyl records or old brass hardware, this market has it all. Dating back to the 1960s, there are now about 200 dealers trading at increasingly competitive prices. Camden Passage actually has four separate market areas: Annie's Market, Camden Passage Market, Charlon Place Market and Pierrepont Market. The areas and their stalls each have different areas of expertise, so give yourself plenty of time to look around.
Annie's
Clothes and accessories from 19oos to the 1950s, including bridalwear and an impressive selection of 1920s flapper dresses. Everyone from Alexander McQueen and Nicole Farhi to Donna Karan and Kate Moss have raided its racks.
Granny's Goodies
You might not be a huge fan of dolls, but this antique store specialising in them (as well as teddy bears, wigs, miniatures and books) is a Camden Passage institution. There's even a "Doll and Bear Hospital service" for injured old toys, and if you do find something you love, they'll mail it anywhere in the world.
Sugar Antiques
As delicious as its name, this is the place to stock up special gifts for loved ones - and yourself. The shop is home to a classic selection of antique and second-hand watches, pens, lighters, cufflinks, tie pins, jewelry, plus a small selection of cameras and the aptly named "wall of brooches".
Hearts & Daggers
Based in Pierrepoint Row, just off Camden Passage, this is an interesting spot that specialises in original antique Militaria from the 19th & 20th Centuries. Items include British Cap Badges and Medals, and all items are guaranteed original.
Kipferl
Hunting for antique treasures takes concentration and much burrowing. Take a break at this cosy, wood-paneled Viennese coffee house and sample one of their Austrian and Central European cakes. Recommended: the Apfelkuchen, an apple cake made from a traditional Jewish recipe.
The Camden Head
In the heart of the historic antique market and dating from 1849, this is a warm cosy pub decked out in its original wood paneling. It also has a large open beer garden in which to enjoy a jug of Pimms in the summer months, and hosts regular comedy events.
- nzherald.co.nz