Countdown has 700 workers in its 25-Year Club, and Graeme Gower is one of them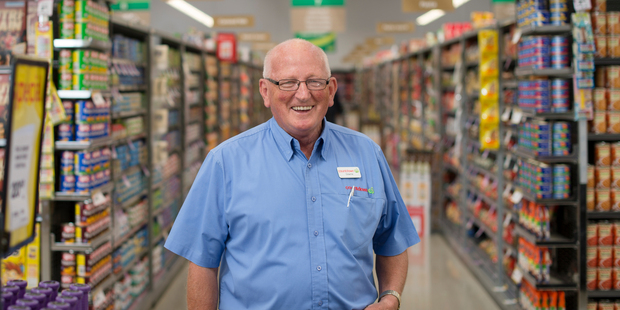 Graeme Gower has stuck with one boss for 55 years and he's in no hurry to retire.
The bright-eyed, fit-looking 69-year-old joined Countdown in 1959, when it was still Woolworths.
Keen for a little more money in his pocket, he took a school holiday job at the store in New Plymouth - aged just 15. Then against the advice of his dad, who wanted him to stick with his school studies, Graeme accepted a fulltime job as a hardware assistant.
Within 10 years he was store manager at Te Kuiti, the first of 12 stores he managed. In a glowing career he's been awarded top manager for his area nine times and New Zealand's manager of the year twice.
In 2008 he became equipment supply co-ordinator for Progressive Enterprises, a role dealing with latest trends in commercial architecture, ergonomics and technology.
"I should have stayed at school a little longer in order to have hit the job market with better writing and spelling skills, but have no regrets.
I doubt I could have had such a rich and varied career, even had I gained a university degree.
"I'm still stimulated by my job; still learning, still keen to get out of bed and go to work. Men my age have often moved round four or five employers and had several careers.
"But with the same diversity of opportunities and experiences offered by one great employer - why move around?"
He is grateful to his first manager, Alistair Grey, for putting confidence in him and providing the freedom to make a mistake.
A couple of years into the job, Graeme was put in charge of buying produce for Woolworths in New Plymouth. "I was only 17-18, daunted by going to markets and bidding against experienced Chinese and Indian fruiterers. I'd never bought a thing but the boss just told me to get started.
"He said, 'The company is big enough to support you.' I put my hand up thinking I was buying 10 to 20 boxes of apricots but I bought 450.
"Alistair just said, 'Don't worry - we'll do big displays.' We had so many 10-kilo boxes of apricots they had to go outside, with a staff member carrying a cash bag selling them to people on the footpath. The apricots went out there for three days ... but in the end we made money.
"I learned to listen and became almost fearless at the auctions. I knew that even if I made a mistake my company would support me."
Soon Graeme was tapped to train as an assistant manager. "I told my store manager, 'Look, I struggle with spelling,' but he said, 'No problem, we'll give you your exams verbally."'
He also had to speak to groups for staff training, "another confidence booster".
During many years managing stores there's been huge change. Extended trading hours were not so good for the weekend sport but they did make running a supermarket more manageable.
Despite advances in technology, the most profound lessons he's learned are the simple ones.
"Noticing when a customer is standing around looking for service, wishing every customer a friendly 'good morning' or 'good afternoon' and remembering to smile. These are the strategies which lead to success."
Countdown managing director Dave Chambers says the firm has more than 18,000 team members around the country, 700 of whom are either current or retired and are part of the 25-Year Club.