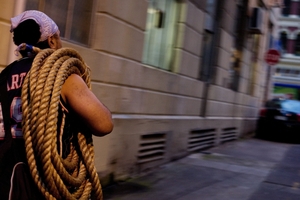 A group of mayors has come up with an ambitious proposal to collect at least 20,000 promises of jobs for unemployed young people.
The proposal, inspired by an Australian scheme that has generated 60,000 job promises for Aboriginal Australians, targets 10,000 new jobs for unemployed young Maori and 10,000 for all other ethnicities combined.
More than one in every five (22 per cent) of all Maori aged 15 to 24 are not in employment, education or training (NEET), almost double the national average of 11.8 per cent.
Former Otorohanga mayor Dale Williams, the outgoing head of the national Mayors Taskforce for Jobs, said New Zealand had numerous schemes promoting youth employment but they were disjointed and low-profile.
"We are saying let's put a line in the sand. [Education Minister] Hekia Parata has done that with NCEA - 85 per cent," he said. The Government is targeting 85 per cent of 18-year-olds to achieve NCEA Level 2 by 2017.
"It will take a leap of faith," he said.
Mr Williams and two taskforce staff saw the Australian Employment Covenant scheme in February on a five-day trip funded by Sir Stephen Tindall's Tindall Foundation, which has also sponsored a "youth connections" scheme to help young people into work in Auckland.
The covenant was launched in 2008 by mining magnate Andrew Forrest, who grew up with Aboriginal children in a remote area of Western Australia. It aimed to draw 50,000 job promises, but has already surpassed that with 61,717 jobs promised by more than 335 employers.
Mr Williams proposes promises called Job Opportunity Bonds (JOBs). Employers would say when a job would become available, specify the required criteria, and promise to hold the job for someone referred by the local community with the necessary qualifications.
"Step one is the community sends a message that it wants to get involved. The taskforce trains the mayor and helps establish a local steering group of education, training providers and employers to undertake a stocktake," Mr Williams said.
"Then work out how to work with the training providers so the young people will be prepared to the standards the employers are requiring."
Employers and Manufacturers Association training officer Mike Burgess said many employers supported local initiatives such as Auckland's Youth Connections and he believed a national target of 20,000 job promises was achievable.
Motor Trade Association spokesman Ian Stronach said car dealers and repair shops faced "a greater demand for better people than an ability to supply" and were keen to participate.
Trust Waikato chief executive Bev Gatenby said her trust was working with the WEL Energy Trust and DV Bryant Trust to help fund any local Waikato initiatives to create jobs for young people.
Kawerau Mayor Malcolm Campbell said many mayors were wary of committing to a numerical target.
Employment Minister Steven Joyce said his officials were still working out what 20,000 jobs would mean at a local level to prepare a revised memorandum of understanding with the mayors taskforce.