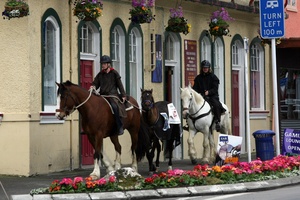 A Wairarapa pub which tried to claim its courtesy van driver was a lonely volunteer looking for company has been ordered to pay the pensioner for his work.
Peter Johnson did not drink or smoke, but was nonetheless a known regular at the Marquis of Normanby Hotel in Carterton.
On three nights a week, from Thursday to Saturday, he picked up and dropped off pub patrons in the hotel's courtesy van.
He also helped with stock-taking, liaised with police over incidents at the hotel, and sometimes opened or closed the premises using his own set of keys.
When he wasn't helping out, Mr Johnson sat in an alcove off to the side of the bar, or rested and watched television.
For his efforts, he was paid $50 a night, allowed to eat the odd meal - sometimes a pie - and could take the courtesy van home.
But the Employment Relations Authority (ERA) heard that all changed in December 2012, after Mr Johnson contacted labour inspectors about his employment status.
The hotel's owner, Ramesh Dayal, asked him to hand in all his keys and to leave the van key at the hotel when he wasn't there. The pub manager then texted Mr Johnson in January last year to say his services were no longer required.
Mr Johnson claimed he was unjustifiably dismissed and was owed wages and holiday pay.
But the hotel argued before the ERA that Mr Johnson was not an employee, and was instead a regular patron who helped out as a volunteer.
Mr Dayal said the pensioner was lonely and sought companionship from the patrons and staff. He was given money not as payment, but as a "koha" for his help, Mr Dayal said.
However, the ERA found Mr Johnson was an employee despite having no written contract.
His van driving duties were an "integral" part of the business, he had regular days of work, and he clearly had an expectation of regular payment.
The ERA found his dismissal was unjustified and for no reason. It ordered the pub to pay $1000 in compensation and $3974.52 in lost wages, arrears and holiday pay.
- APNZ