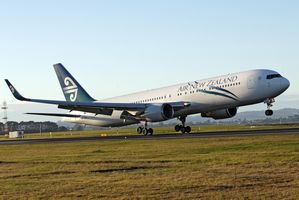 Air New Zealand has been criticised for taking too long to discipline an air hostess for shaking a colleague who woke her during a flight.
Elizabeth Hyland, a flight attendant with an almost "unblemished" 26-year career, was given a final warning and ordered to take anger management lessons for her conduct on the Auckland to San Francisco journey.
The Employment Relations Authority, in a decision published today, said the penalty would have been fair had it been imposed immediately, but because it took the airline 10 months to investigate, that was punishment enough.
Authority member Alastair Dumbleton said Air NZ had been "unfair and unreasonable" for telling Ms Hyland she could be sacked before its "protracted" investigation.
"It does seem unfair ... to have an employee continue to work for as long as 10 months while under the shadow of an unfinished disciplinary investigation which has been notified as possibly leading to dismissal," Mr Dumbleton said.
The airline declined to comment on its lengthy delay but a spokeswoman said "we've been left a little puzzled by this decision".
She said "waking someone by touch ... is a well-established practice for decades in the airline industry".
Ms Hyland, who still works for the airline, became agitated when she was woken at the end of her allocated sleep break during an overnight flight on August 27, 2011.
According to the authority decision, the way she was woken was disputed - the colleague said she woke Ms Hyland gently while Ms Hyland said she was shaken, which caused her "physical hurt or discomfort" and "agitated her considerably".
Ms Hyland confronted her colleague, took hold of the woman's arm and shook it to show her how she felt when she was woken up, which "caused her colleague immediate distress", the decision said.
She later apologised but was stood down for the return flight to New Zealand and told her conduct would be investigated.
The final report by Air NZ managers came 10 months later and found Ms Hyland's actions had breached the company's code of conduct, failed to meet the standards of flight attendants and constituted workplace bullying.
She successfully appealed against her punishments to the authority but was told she still had to sign a draft written apology to her colleague, even though a senior manager was "concerned as to the genuineness" of it.
Ms Hyland's claim for $10,000 compensation for pain and humiliation was dismissed because she was "significantly to blame for what happened through her over-reaction and in handling her colleague".
Her lawyer, Paul Wicks, told the authority the dragged-out investigation caused Ms Hyland "unnecessary stress and health issues".
Mr Wicks told APNZ today that his client had put the incident behind her and was horrified by media interest in her employment dispute.
- APNZ