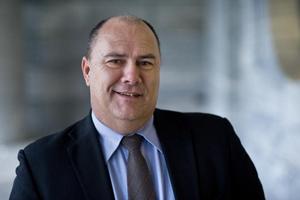 Unions will be legally bound to hold a secret ballot for their members to approve a strike under a measure National MP Tau Henare has proposed to stop worker intimidation.
Mr Henare told the Herald the idea came from his time as a union organiser in the 1980s, when he stood before workers before a show-of-hands strike vote with a presence that "would have made them think twice about voting no".
He has lodged the Employment Relations (Workers Secret Ballot for Strikes) Bill as a private member's bill, meaning if drawn it will get a chance in Parliament.
Mr Henare, who was an organiser for the Clerical Workers Union, said he now believed that workers needed to have the confidence they could make the big decision about a strike in secret.
He said unions had nothing to fear from the measure, as many took a secret ballot for strike already. He was simply hoping to codify this in law.
He said a "hands-up" vote made it all too easy to get people to vote a simple way.
"You can intimidate pretty easily like that. You don't have to get in their face or stand over them. Just being there can do it."
Mr Henare's bill is likely to get little opposition from unions, with Engineering Printing and Manufacturing Union general secretary Andrew Little calling it "no big deal".
Mr Little, who is also Labour Party President, said a secret ballot was within the EPMU's rules and he expected 95 per cent of the unions were the same.
Big unions like the 14,000-member Post Primary Teachers' Association are among those that already hold secret ballots.
Mr Henare said even if his bill was for the 5 per cent of workers who didn't have a secret ballot, it was important.
He said, if drawn, he would be surprised if Labour did not support it.
"It is not an attack on workers' rights - it is actually making sure workers are respected," he said.
Mr Henare's bill was one of 32 in the draw yesterday, but missed out on its first chance to be pulled from the biscuit tin in Parliament.
The draw was won by Labour MP Nanaia Mahuta's Resource Management (Enhancement of Iwi Management Plans) Amendment Bill, which aims to strengthen the influence of iwi on district plans.
Private members' bills are proposed laws introduced by a backbencher. Despite having the most members in the House, Mr Henare is one of only five National MPs who have bills in the draw.
Members' bills have previously led to important reforms, such as Fran Wilde's Homosexual Law Reform bill, Jonathan Hunt's Adult Adoption Information bill and Tim Barnett's Prostitution Reform bill.
This week Act MP Sir Roger Douglas' Education (Freedom of Association) Amendment Bill passed its first reading with the support of National. It will change the law so students will no longer be forced to join a student union.
MEMBERS' BILLS
* Tau Henare's Employment Relations (Workers Secret Ballot for Strikes) Bill
* Jim Anderton's Electoral (Disqualification of Sitting Members in Byelections) Amendment Bill
* Sue Moroney's Parental Leave and Employment Protection (Six Months Paid Leave) Amendment Bill
* Todd McClay's Shop Trading Hours Act 1990 Repeal (Easter Sunday Local Choice) Amendment Bill
* Keith Locke's Head of State Referenda Bill