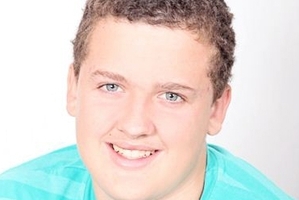 Aryn Bell drives past Northland's rescue helicopter's base every day and each time it reminds him how lucky he is to be alive.
He was 13 months old when he and his mother were loaded on to the chopper after he had a near-fatal asthma attack.
His mum, Kim Bell, said he woke one morning struggling to breathe - and he had to get from Kaitaia to Whangarei Hospital quickly.
"Before our eyes things started to go downhill so very fast and within a short time, Aryn was critical."
The two-hour car journey would take too long, and the family were told to gather around him as it was "touch and go".
"As a new mum it was heartbreaking and so very scary to see your child lifeless like that ... And I honestly had a moment of relief when I heard the sound of these rotors. I felt a renewed sense of hope."
She and Aryn were loaded into the Northland Emergency Services Trust (NEST) chopper and flown to Whangarei. It was a trip she would never forget or want to repeat.
"But I am so very blessed the service was there that day and I cannot put into words how very grateful we all are to still have Aryn with us now."
Aryn is almost 18 and doing a sport and recreation course, and his parents know he has NEST to thank.
He is one of thousands of people who have been helped by NEST, which celebrates 25 years of operation this month.
The number of people who have been helped is not lost on those who work for the rescue chopper. Chief pilot Pete Turnbull and his colleagues are acutely aware of, because their job its not your typical office job.
"That's one of the interesting things about it. You never know what the day has in store for you."
This goes both for them, and those who need rescuing. "More so for some of our clients. I'm very aware that you don't know what you've got in store when you walk out the door in the morning ... They're as surprised about how the day turns out as we are, and you see that all the time."
He has had his share of drama, be it the highs of being part of a life-saving mission or the lows of losing a patient, during his 18 NEST years.
In that time he has flown more than 5000 missions, but told the Weekend Herald he remembers "the people more than the flights".
"The gratitude they have shown, it makes the flight, whatever it was, worthwhile. I know sometimes the people we carry, the prognosis hasn't been ideal but to then see them walking into the hangar - in a very short time - is amazing."
A recent example was a heart attack victim Mr Turnbull thought was beyond hope.
"When they came on board I wondered if they'd make it, but blow me days, a fortnight later they wandered in to the hangar with a sponge cake."
It was now hard to imagine the province without NEST.
"We've been operating for 25 years so some of the people we carry are younger than the service and I guess they grow up with an expectation the service will be there."
The day is never boring.
"Take the Sunday of Labour weekend. We had eight separate accidents which were good healthy Labour Day activities that went wrong - a motorbike accident, farm bike accident, someone who fell down a cliff, and another who broke a leg while on a walking track and needed winching out ... it just goes on and on and there was a heart attack in amongst that and a respiratory problem as well."
When NEST began in 1995 there was only one machine and it was leased. Today, it has three and the capability has increased significantly.
"The fact we came from small beginnings to a world-class service really fills me with pride each time I come to work."