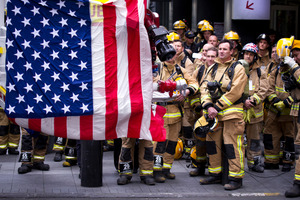 Firefighters from all over New Zealand attended a memorial service and took part in a stair challenge in the old BNZ Tower in downtown Auckland yesterday.
The service was to remember both the firefighters killed in the 9/11 terrorist attacks in New York City in 2001 and also to honour members of the New Zealand Fire Service who have died in the line of duty.
Organiser Tony Scott, a senior rescue firefighter at Auckland Airport, wanted the day to be a mixture of remembering colleagues and allowing for the "competitive" spirit of firefighters. Challenges included running up the 26-storey tower, a tandem event, with a hose as the baton, and carrying 20kg sandbags on the climb.
A letter from the New York Fire Commissioner was read by Consul General James Donegan. Mr Scott hoped it would become a regular event. "It gives us a chance to remember our friends, a bit like soldiers do on Anzac Day."