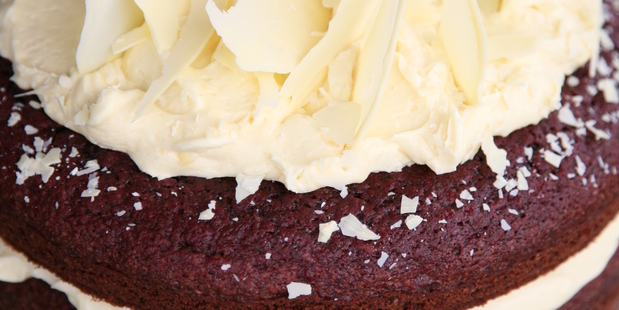 Amy Melchior, a former chef at Ripe Deli, created this natural version of a red velvet cake using beetroot for colour instead of processed food dyes. What's gained in goodness is balanced out with the deli's favourite white chocolate icing.
Serves 12
Beetroot and Red Wine Red Velvet Cake
• 2 beetroot (approximately 400g), raw, peeled, finely-grated (you want to end up with approximately two cups of grated beetroot)
• 2 tbsp lemon juice
• 1 tbsp cider vinegar
• 2 cups (300g) flour
• 2 tsp baking powder
• 1 tsp baking soda
• ½ cup (50g) cocoa powder
• 2 tsp ground cinnamon
• 1 tsp ground mixed spice
• pinch of salt
• 1 cup (160g) soft brown sugar
• 1 cup (220g) caster sugar
• 4 eggs
• 1 cup (250ml) light vegetable oil
• 2 tsp vanilla extract
• ½ cup (125ml) red wine
White Chocolate and Cream Cheese Icing
• 200g white chocolate, grated
• 50g cold unsalted butter, cubed
• 4 tbsp cream
• 250g cream cheese, softened
• 1 cup (150g) icing sugar
1. Preheat oven to 180 C. Grease and line two 23cm cake tins.
2. In a food processor bowl, place the grated beetroot, lemon juice and vinegar. Blend until the beetroot is a very fine puree. This will take approximately five minutes of blending. Transfer the pureed beetroot into a small bowl.
3. In a large mixing bowl, sift together the flour, baking powder, baking soda, cocoa powder, cinnamon, mixed spice and salt.
4. In a medium-sized bowl, place the brown sugar, caster sugar, eggs, oil and vanilla. Whisk together until thick and glossy.
5. Make a well in the middle of the flour and pour in the wine, add the egg mixture and the beetroot puree. Mix together until just combined. Do not over mix the batter.
6. Divide the cake batter evenly between the two tins. Bake for 30-40 minutes or until a skewer inserted into the centre comes out clean.
7. Remove from the oven and leave in the tins to cool a little before turning them out on to a wire rack.
8. To prepare the icing, place a heatproof bowl over a saucepan of simmering water. Melt the white chocolate, butter and cream together. Whisk with fork until well combined.
9. Place the cream cheese in a cake mixer bowl and beat until soft and fluffy. Slowly pour in the white chocolate mixture. Beat until light and creamy, scraping down the inside of the bowl so that the cream cheese is well combined and there are no lumps.
10. Add the icing sugar and beat for another minute or two. Transfer the icing into a bowl. Cover with cling film and place in the refrigerator for 10 minutes to firm up.
11. When the cakes have cooled, spread half the icing onto one of cakes. Place the second cake on top. Spread over the remaining icing and garnish with curls, shards or shavings of white chocolate.
12. Place the cake in the refrigerator for at least 10 minutes to set the icing. Allow the cake to come back to room temperature before serving. Transfer onto a cake plate and serve.
This recipe was first published in Ripe Deli owner and chef Angela Redfern's new cookbook Ripe Recipes - A Fresh Batch (Beatnik Publishing, 2013).
Get more info on Ripe Deli here, or drop by 172 Richmond Road, Grey Lynn.
To make sure you're on the list for more recipes, sign up to our newsletter. We're also on Facebook and Twitter.