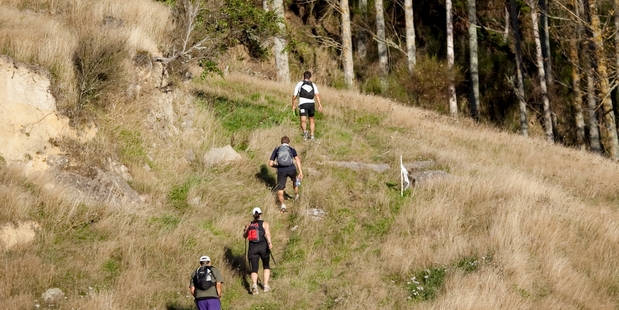 After years of complaining to my wife about washing my clothes in such hot water that my shirts had shrunk, I finally cracked through my denial and embraced the harsh reality of being fat. Being a normal bloke I needed a quick fix - a radical, short-term plan that would transform me to my former glory.
The Oxfam 100k Trailwalker was definitely radical enough and would cunningly camouflage my selfish goals as a higher purpose. An email was impulsively sent out to my colleagues at APN NZ and enough people for two teams volunteered for this amazing event.
The Oxfam Trailwalker New Zealand is part of an international series, with 17 events being held around the world in 11 countries. Over the years, the event has raised more than $150 million internationally for Oxfam's life-saving work.
In New Zealand, each year hundreds of teams of four take on the incredible challenge of completing 100km in 36 hours in the stunning hinterland around Lake Taupo.
Supported by well over a thousand support crew and volunteers at the event, these teams walk (or run) their way through the 100km trail to support Oxfam's lifesaving work throughout the Pacific and Southeast Asia.
It'll be one of the hardest things you ever take on, but the sense of achievement you'll get when you cross the finish line will blow you away. This sentiment was reinforced by Bridget Jakicevich, who was team leader for the 'Itches and Bitches' team who have raised a staggering $15,600 - the most so far for 2014.
"I think that the Oxfam Trailwalker isn't about walking 100km. It's about raising awareness and raising money. The walk is just a bonus. I think it's a bit like childbirth. Your memory blanks out the brutal bits and focuses on the euphoria at the end," she told The New Zealand Herald.
The Element team - of Scott Hughes, John Orfanos, Ash Lomberg and myself - held a Celebrity Charity Auction at Britomart Country Club which raised $13,000 on the night.
As Oxfam New Zealand's marketing director Gwen Green said: "What a fabulous evening! It was an absolute privilege to attend Element's celebrity auction, raising funds for Oxfam New Zealand's work with vulnerable communities across the Pacific. It was a hugely fun event, raising a serious amount of money. Thank you so much to everyone involved."
In total the Element team raised $14,500 - putting us in third place for fundraising. The weather was perfect on the day and the tracks crossed private farmland and some of the most spectacular treks in the country.
Jess Hamilton, a magnificent physiotherapist, and Jan Rowsell, an ex-Black Stick, were our amazing support team so we were in good hands. We also had a luxurious campervan from Jucy Rentals. I would strongly recommend a camper van for a little luxury which is heaven-sent during the event.
This is a gruelling event and only John Orfanos finished from our team with the respectable time of 24 hours. John happened to be the only person in our team who really trained enough for the event - he also happened to be the only Kiwi - beating his Pom, Paddy and Canadian teammates - which has created a lot of jokes in work.
The other APN team (who trained hard) 'Herald Heros' - comprised of Demelza Muir, Tristan Calwell, Laura Lynskey and Nick Cullen, with support from Louise Hancock, Jenna Morris, Kelly Ryan and Chris Arnold - also made it to the finish 30 minutes after John and raised $3000.
I didn't finish and, ironically, I put on more weight, but we did manage to raise a lot of money for some of the poorest people on the planet, which is what this event is really about.
My father always told me that you only fail when you stop trying and I hate to fail. So I'm going to keep doing the long walks and will see some of you next year at the 2015 Oxfam Trailwalker - hopefully at the finish line.
For more information and videos see oxfamtrailwalker.org.nz. Thanks to all our sponsors the Britomart Country Club, Merediths, The Hilton's Fish, Orleans, Shore Road Café, Revelry and The Kitchen Collective, Mark Fewtrell Massage Therapy, Force X Velocity, Vada and Asics.