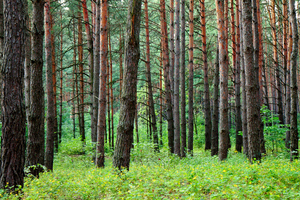 Green business: A commitment to putting 'green first' has seen Laminex New Zealand achieve Forestry Stewardship Council certification and a raft of other initiatives.
Laminex New Zealand recently announced the achievement of Forest Stewardship Council (FSC) certification across all three of its manufacturing sites (Hamilton, Papakura and Taupo). This complements the certification throughout its branches and distribution centres achieved in 2012, enabling FSC certified products to be manufactured and distributed to New Zealand customers.
Spearheaded under the company's 'Green First' initiative, it's part of an ongoing programme of sustainable projects that span the breadth of the business from re-cycling to corporate social responsibility. "As sustainable building practice is becoming an expectation, an increasing number of commercial and residential projects are demanding certified wood-based products, explains Rebbecca Page, sustainability advisor.
"Laminex NZ supports the Forest Stewardship Council by enabling consumers to make informed choices about the forest products they buy, and create positive change by engaging the power of market dynamics."
This latest FSC accreditation joins a number of other robust eco-labels held by Laminex NZ, including Environmental Choice NZ and ISO14001 (Environmental Management Standard). FSC also provides opportunities with the NZ Green Building Council and its GreenStar and HomeStar accreditation programmes.
Green First is a company-wide sustainability initiative which includes numerous programmes of environmental management and certification reflecting the belief that action must follow good intentions and ambitious goals.
Laminex NZ continually develops strategies that enable it to move toward sustainability with efforts to:
Reduce energy use throughout the life of its products
Ensure active water stewardship
Reduce carbon emissions by optimising energy usage in the production of its products
Work with suppliers to increase recycled and eco-friendly content in raw materials, making mandatory the use of fibres from sustainable forests.
HAMILTON LIGHTS UP
Lighting improvements at Laminex New Zealand's Hamilton Plant have seen energy use reduced by 80%.
The project involved replacing 216 existing light fittings with 242 energy efficient LED fittings. When enough natural light is available, the lights dim or switch off. In those zones not in constant use, motion sensors activate lights when people or forklifts enter. Total light energy use is expected to reduce from 660,000 kWh to 140,000 kWh a year - saving around $80,000, with a two year payoff time.