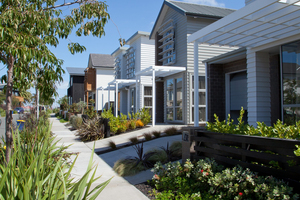 Cities: Hobsonville Land Company (HLC) will be on show at the Sustainable City Showcase, taking place at The Cloud on Auckland's waterfront from 17-19 October. HLC is the lead developer of Hobsonville Point, New Zealand's largest residential development where up to 3,000 homes will be built over the next 15 years.
HLC's Sustainability Manager Katja Lietz will share her lessons about urban development and public spaces at 2.30pm on Thursday 17 October.
The company will also release its sixth annual Sustainability Report at the show highlighting its progress against long term sustainability indicators, set at the outset of the project in 2007. The Report emphasises that taking a more sustainable approach to development achieves high levels of well being among residents, as well as lower cost living.
Ms Lietz says the way that the Hobsonville Point development was initiated enabled planners and designers to factor in best practice, in terms of sustainability, across a wide range of standards and development elements.
"It's been about doing lots of things as well as we can, drawing on a range of knowledge and lessons in the sustainability space," she says.
Hobsonville Point pluses:
The development aims to build a sustainable, urban community with:
• early investment in community facilities, such as parks, playgrounds, schools, cafe, farmers market,
• community gardens,
• on site nursery to grow native plants from local seed for re-vegetation - operated by the Kaipatiki Project,
• higher than building code standards for energy and water efficiency, construction waste recycling scheme; and
• early investment in public transport (including new ferry wharf and ferry services) by working closely with Auckland Transport.
Ms Lietz says she will use her panel discussion to talk about HLC's experience in building a more sustainable urban community.

"With now more than 100 homes occupied, we have been able to find out how this community is working for the people that live there," says Ms Lietz.
"The results are clear: people like living at Hobsonville Point, they use much less water and electricity than the Auckland average. They feel that there is a sense of community, and that their neighbourhood is safe and friendly."