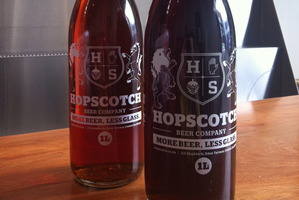 Sustainable business: Hopscotch Beer Company, the business run by beer aficionado Hugh Grierson, will be selling their fine craft beers at the Sustainable City Showcase from October 17-19.
The company, which is nearly two years old, is the only specialist tap beer shop in Auckland.
Grierson operates a tight ship, adhering to strong sustainability principles by mainly New Zealand-made beers from small, niche breweries and adopting a zero waste ethos.
Situated off Mt Eden Road, Hopscotch offers tap and kegs of beer from brewers in Rotorua, Westport and Hastings as well as some of the bigger, independent beer-makers like Tuatara.
Grierson says that supporting local is more sustainable than spending offshore (as well as cutting down on carbon emissions from transporting overseas products), but also earns his eco-credentials by offering reusable, one litre, German glass bottles for customers to fill up with beer, and refusing to stock plastic bottles.
"Every time someone buys a litre of beer in a glass bottle, you don't make three stubbies worth of waste," he says proudly.
"And every time I sell a keg of beer, that's 33 kilos of rubbish that has been avoided." Kegs are also able to be hired for parties, which many take to remote locations like Aotea (Great Barrier Island) or out in the bush to avoid the mess that accompanies summer parties.
Hopscotch offers premium craft beer starting from $8 a litre, and you can try out some of their beers on offer at the Showcase including a Fern Green organic larger from West Coast Brewery and a 2.7 per cent, hoppy, Indian Pale Ale from Croucher Brewery, called the Low Rider.
Grierson says he really happy to be involved in initiatives like the Sustainable City Showcase, because he believes that true change has to come from the ground up. "It seems to me that around the world positive change to try and reduce harm... doesn't come from government. For Auckland to sort itself out [the change] has got to come from the bottom up, and this is just the sort of thing that will drive the interest from local government and local people."
Hopscotch Beer Company will be supplying drinks at the Night Market on Friday the 18th of October from 5pm - 10pm.
Like what you see? For weekly Element news sign up to our newsletter.
We're also on facebook and Twitter.