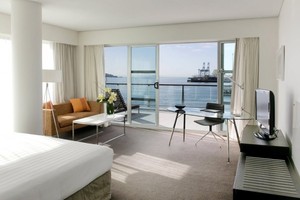 Despite our dubious 100% Pure claims, many of New Zealand's hotels are stepping up as key players in sustainability and environmental issues.
Going green is the new standard for hotels, as they seek to improve their practices and answer the call of a growing environmental consciousness. Recent data shows that a majority of business travellers are conscious of the sustainability practices of the hotels they stay in.
According to market research firm Timetric's 'Global Business Traveller Survey,' 47 per cent of respondents said that staying in green-certified hotels is considered "important," while seven per cent said it to be "extremely important."
Qualmark, New Zealand tourism's official quality assurance organisation, works with hotels across the country to ensure they are creating a quality experience for their customers, while rating and rewarding those with environmental policies. Qualmark's general manager Tim Keeling says: "Being a responsible tourism operator means having a balanced approach to economic, social, and environmental priorities; and mitigating any negative impacts that may occur as a result of tourism."
One brand that has seen significant improvements in recent years is Hilton Worldwide. With over 3600 hotels in 81 countries, Hilton has created a five-year (2009-2014) goal to reduce CO2 emissions, waste output, and water and energy consumption. Using a measurement system known as LightStay, Hilton calculates sustainability practices across the global portfolio to then learn and improve on ways to increase performance.
"If you don't start to look at the way you do things, it's a disaster. But if you do start to improve the way you do things the impact we can have on the environment is massive," says Cristina Magni, marketing and communication manager at Hilton Auckland.
Some of Hilton Auckland's sustainability practices include fitting Virtual Energy Burner Management systems to the boilers, fitting water reduction aerators to all guest room hand basins, LED lighting changes, and selecting sustainable and organic ingredients in their Fish restaurant.
Another hotel in Auckland that has stepped up to the plate is Jet Park Airport Hotel. While the most common environmental policies across the board include dual-flush toilets, flow restrictions on water heads, waste disposal systems and LED lighting, Jet Park has installed a solar panel farm on their property which provides energy for heating water for their entire North Wing, slashing the amount of gas consumption.
The company's staff has also completed over 120 plus hours of volunteer service to the Kokako Conservation Project in the Hunua Ranges, a community service project that helped them win the Qualmark Environmental Initiative Award this year. When asked why they have taken such great strides for the environment, general manager Jeeva Nanthan says it's a social responsibility to care for the community and care for the future: "It's about being more ethical."
QUALMARK
Qualmark is New Zealand's official tourism rating organisation, working with 179 hotels across New Zealand and over 2100 tourism businesses to ensure quality experiences for costumers. Qualmark's Enviro Award is a specific recognition given to businesses which show sustainable tourism initiatives.
Based on six criteria (energy usage, water conservation, waste management, involvement in community, innovation and environmental conservation), Qualmark rates and awards hotels who have gone above and beyond expectations as a leader in environmental issues. These awards are given in bronze, silver, and gold.
For weekly Element news sign up for our newsletter here