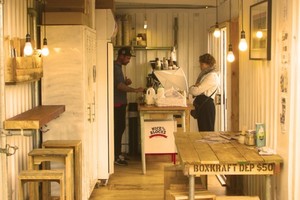 A quiet suburban street in Waterview has come to life around a new pop-up café.

The rust on the old Russian shipping container housing the Waterview Coffee Project is a reminder of its previous life on the high seas. Outside, you park your bike in the bikestand, and park your bum on one of the benches, both of which used to be wooden freight pallets. It's the recurring theme throughout - re-use, recycle and reduce. And it cohabits nicely with the other criteria insisted upon by owner James Crow - one half of the business duo behind iced treat company Nice Blocks - that of Fairtrade produce.

On offer is Fairtrade coffee beans and sugar to sweeten your brew, along with Fairtrade and organic Cola and Ginger Beer, and his own, soon-to-be-Fairtrade-certified Nicecream icecream.

Food is simple and delicious, with baking and sandwiches provided by Ripe Delicatessen in Grey Lynn and served, as is the coffee, on compostable plates and cups. Despite its slightly ramshackle appearance, The Waterview Coffee Project is a truly sustainable venture thought through to the last detail. The barista, Cory, even bikes to work each day.

In our recipe this month James makes his trademark Cola, Espresso and Banana Icecream 'Spider'.
COLA, ESPRESSO AND ICECREAM 'SPIDER'
Ingredients:
One generous scoop of Banana Nicecream (or your favourite icecream)
One 330ml bottle of organic, Fairtrade cola (try Karma Cola)
One shot of Fairtrade espresso coffee

Method:
Take the biggest scoop of icecream that will fit into your glass and put it into a bowl.
Draw a shot of espresso and pour it over the icecream and leave it to cool, turn the icecream over in the espresso to coat it in the coffee.
Transfer the icecream to your glass and slowly pour over the cola.
There will be some coffee left in your bowl - add it if you prefer a stronger coffee flavour.