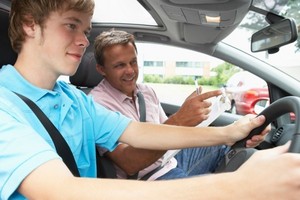 There's some things that will never be cool in the eyes of many teenagers. Bovril.
Pocket protectors. Kenny G. Walk shorts with long socks and Roman sandals.
But to be fair, no-one's life has ever depended on elevator music or pleated shorts.
And if being cool is about living life to the full, staying safe behind the wheel is an excellent place to start.
The harsh reality is that a teenager is twice as likely to die in a car crash than their parents. Research confirms that even though teens made up just six per cent of all licensed car drivers from 2008 to 2010, they accounted for 14 per cent of drivers involved in both minor and serious injury crashes, and 13 per cent of drivers involved in fatal crashes.
More than 700 Kiwi teenagers have died in road crashes in the past decade, with one
teen killed on the roads every week in recent years. New Zealand has the highest road death rate in the OECD for 15-17-year-olds, and the fourth highest road death rate for 18-20-year-olds.
Each one of those deaths is a bedroom covered in posters that falls silent, a lifetime of potential snuffed out in seconds, and more shattered lives than we can imagine. The pain is amplified by the fact that most of those deaths were avoidable.
Road safety isn't just about preventing death. That brief lapse in judgement can result in losing the ability to walk, a loss of motor and brain functions, massive facial reconstruction, severe organ damage and the inability to feed or toilet oneself.
So who's responsible for improving teen driving statistics? Internationally, road safety thinking has transformed over the last few years. One cornerstone of world-leading countries such as Sweden and the Netherlands is that road safety is everyone's responsibility - drivers, riders, road builders, parents, vehicle manufacturers, employers, policy makers, etc.
Often, a sea change of the scale required to make significant improvement begins with government. And the New Zealand Government has responded to the teen driving crisis through a range of initiatives in the Safer Journeys road safety strategy, including raising the driving age, introducing a zero alcohol limit for under 20s and making the
restricted driver licence test harder.
Not all of the latest road safety initiatives are legislative. One of the NZ Transport Agency's (NZTA) current advertising campaigns is aimed at reminding parents that they're responsible for helping their teen driver become a safe driver.
The campaign tells parents not to bail out when teens gain their restricted licence and begin driving solo. And along with staying involved during their teen driver's restricted
driving licence phase, when it comes time for a teen to buy a car of their own, parents play a much more important role than just being the 'bank of mum and dad'.
We can teach our teens good driving habits. But the reality is that from time to time, things will go terribly wrong. Everyone makes mistakes. And that's where you can't go past having a safe car. Parents play a key role in encouraging teen drivers to look beyond style when deciding which car to buy.
While safety might not be the height of coolness, the good news is that a car that will protect your teen doesn't need to be a car they wouldn't be seen dead in.
Safe trip:
As vehicle manufacturers continue to raise the bar on safety, we're getting vastly improved safety features in cars without sacrificing style or performance - or even breaking the bank.
Lisa Rossiter, the NZ Transport Agency's chief advisor safety directions says buying a safe car doesn't need to mean spending extra money.
"Safe cars come in a range of sizes, styles and prices," says Rossiter. "The RightCar
website is a really good place to start to help teens choose a safe car. RightCar compares safety features as well as fuel economy and emission ratings for not only new, but also used cars.
"The used car safety ratings system (UCSR) is based on analysis of actual crash report data. Crashes provide real-life evidence of how a vehicle protected its passengers, and any pedestrians involved, during a crash. The data is updated and recalculated each
year with new crash information," says Rossiter.
"So it makes sense to buy a car that offers the most protection possible in the event of a crash. And that doesn't mean spending more than you can afford - just help your teen to buy the safest car they can afford."
And if the worst does happen when they're out on the roads, what would you think your teen would value most in that moment - airbags or mags?
We want all our teens to stick around well beyond the day that what they once considered cool is considered anything but by the next generation. And it may be because their parents convinced them or helped them to buy a safe car that they live to see that day.
For more visit rightcar.govt.nz