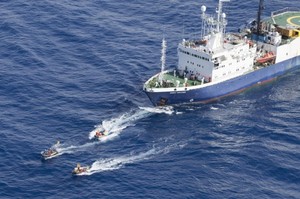 Speaking with Dayle Takitimu of Te Whanau a Apanui, Element discussed the iwi's victory as Brazilian oil company Petrobras pulls out of the Raukumara Basin operation. The company was prospecting for oil off the East Cape in as much as 2500m of water, and has faced significant opposition from the iwi and Greenpeace.
How are you feeling?
It's been a bit of a mixture of emotions. But an emotional response at the announcement. There's been a lot of tears from those of us involved at the frontline of the campaign - the sheer, utter relief really. And, obviously, we're really excited and really happy and people want to go into celebration mode. But we know this is just one victory and we have a lot of other work to do in terms of the fossil fuel agenda and mining and drilling.
Why do you think they've pulled out?
Petrobras as a company has certainly had some well-publicised financial issues over the last wee while and in terms of those problems, they've been investigating their remote offshore exploration.
And, I would say, that, coupled with whatever they've seen as a result of 2d seismic surveys that they did. But the reality is, I'm sure, their economic situation has triggered it. But, hey, we'll take what we can get. We don't mind what pathway they've taken - the bottom life for us is that there won't be any drilling in the Raukumara basin and that's great.
How were you consulted about the initial prospecting process in the Raukumara basin?
We weren't. I think that's been we've made that pretty clear that we felt we were aggrieved for two reasons. One, because of the lack of process and engagement and two, obviously we were concerned, at a substantive level, about the dangers of deep sea drilling and what the permit would likely bring with it . But certainly in terms of the withdrawal of Petrobras we welcome that, and we welcome the opportunity for the government to sit back and reflect on how their processes can be improved.
Who else has been instrumental in the fight for victory?
Well, Greenpeace, obviously. We partnered with Greenpeace because we were clear it was an environmental issue and they've worked really closely with us. My first phone call was to Greenpeace to thank them for standing in solidarity with us... they've been with us every step.
When did you find out?
I just found out! I've been in meetings all morning and I was curious as to why I had a billion missed calls. It was either because Petrobras were going ahead, or pulling out and I had my fingers crossed it was the last one.
Where to now?
There's a group of us heading to the coast to the Powershift conference to talk about the movement away from deep sea oil and fossil fuels, towards a more sustainable way of living in harmony with the environment.