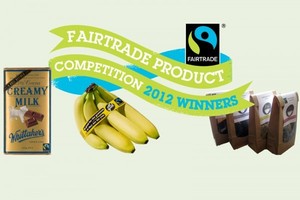 Winners of the inaugural Fairtrade Product Awards, which celebrates certified Fairtrade goodies, were announced earlier this year. Nineteen brands were up for the award and three winners were identified by voters.
The Large Category prize winner was Whittaker's 5 roll refined Creamy Milk, which uses Fairtrade-certified cocoa from Ghana.
Taking out the Medium Category was Fair Trade champions All Good Bananas, who source their ethical fruit from Ecuador's El Guabo cooperative and Wellington-based, boutique loose-leaf tea company KTea took home the Small Category prize with their Fairtrade certified Velvetea Vanilla.
According to K. Ohemeng-Tinyase, managing director of the Kuapa Kokoo cocoa cooperative which supplied Fairtrade cocoa to Whittakers, conscious consumers in countries like New Zealand can help create fair prices and working conditions. "A bite of Fair Trade chocolate means a lot to peasant farmers in the south. It opens the doors to development and gives children access to healthcare, education, and a decent standard of living."
Fairtrade sales are consistently on the up and were worth around $45.5 million in 2011 in New Zealand. Operations manager of Fairtrade NZ, Barnaby Luff, says choosing Fairtrade is one way that consumers can help contribute to the betterment of communities in poorer countries.
"Fairtrade is one of the most trusted certification marks worldwide, so when you buy Fairtrade you can trust that your purchase helps to fund community projects like schooling and healthcare, as well as giving farmers the ability to invest in their businesses," says Luff. "The more products we buy in New Zealand, the more community projects that can be funded."
For additional information visit www.fairtrade.org.nz or email info@fairtrade.org.nz