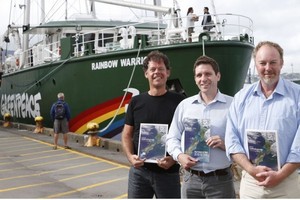 Last Monday, Greenpeace released their report showing how a greener energy sector could create jobs and wealth for New Zealand.
'The Future is Here' goes "beyond adding green growth to our current economic and political paradigm," says the publication. "It challenges the political mindset."
The report states that nearly 30,000 jobs could be created through the expansion of geothermal and bioenergy industries. Geothermal alone could be worth over $4 billion NZ annually to our economy.
The report also outlines opportunities in the wave and tidal industry as well as setting out the case for a Green Investment Bank.
The report was authored by a collection of European, Australian and New Zealand academics and policy analysts.
Increasing our reliance on alternative energy sectors, says the report, will reduce our dependence on foreign oil - which could see savings of $7 billion NZ each year by 2035.
Jobs look set to more than double in the renewable energy sectors between 2010 and 2030, say the report, which will have wider ripple effects in industries linked with suppliers and associated sectors.
The report issues a challenge to New Zealand, asking if we are "willing to capture a share of this enormous market?"
It states that Government leadership is "essential" and issues a challenge to leaders stating that policies that don't fit the goal of a "prosperous economy built on a 100% renewable energy future" must be dropped.
The analysis in the report shows that New Zealand can:
• Have 100% renewable electricity by 2025;
• Create tens of thousands of jobs across the clean energy sector;
• Within 22 years New Zealand will be virtually oil free for road transport through efficiency gains, improved public transport and sustainable transport fuels;
• By 2035 save over NZ$7 billion per year in oil imports (at today's value);
• Realise export economic opportunities in our geothermal industry that could be worth up to NZ$4.4 billion per year;
• Become a world leader in developing ocean energy;
• Reduce our carbon dioxide emissions by 94% on 2009 levels.
If New Zealand fails to grasp these economic opportunities, the failure will be recorded in New Zealand history as the key turning point towards our economic decline.