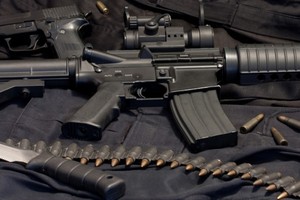 The UN passed a vote to regulate the $70 billion US a year conventional arms trade, reports Al Jazeera.
The treaty will regulate the trade in 'conventional arms' - a label encompassing all weapons that are non weapons of mass destruction including machine guns, battle tanks, sea and land mines, attack helicopters, cluster munitions and (non-nuclear) bombs.
As the number of yes votes showed up on the electronic board, the room was filled with loud cheers. The treaty passed by a vote of 154 to three with 23 abstentions. North Korea, Iran and Syria voted "no".
Iran is currently under a U.N. arms embargo following the re-instigation of its nuclear programme and wanted to see its access to arms imports and exports remain open.
Syria's government currently relies on Russian and Iranian weapons for the civil war. It listed seven objections to the treaty including that it failed to include an embargo on delivering arms to "terrorist armed groups and to non-state actors."
North Korea is currently facing a U.N. arms embargo due to its nuclear missiles and weapons programme. They also said that the treaty favoured arms exporters.
Amnesty International said all three countries "have abysmal human rights records, having even used arms against their own citizens".
The head of Arms Control and Human Rights at Amnesty International, Brian Wood, was at the conference in New York. "Despite Iran, North Korea and Syria's deeply cynical attempt to stymie it, the overwhelming majority of the world's nations have shown resounding support for this lifesaving treaty with human rights protection at its core,"
he said.
According to Amnesty International the top five arms exporters are:
The United States
Russia
Germany
France and
China.
Despite being the number one arms exporter, the United States voted in favour of the treaty.
The treaty requires signatories to create regulations controlling the transfer of conventional parts, components and arms as well as regulating arms brokers. It will take effect after the 50th ratification of the treaty.