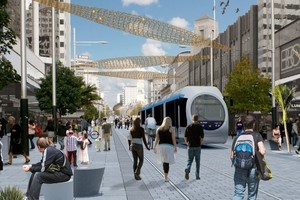 New Zealand's largest city will be a vastly different place under a series of bold initiatives in the Auckland Council's first major planning document. The Auckland Plan is an attempt to provide a blueprint for Auckland in 2041, with an expected population of 2.4m. About 23 per cent of citizens will be aged over 60 and there will be an increasing number of couples without children.?Released in September, the Plan is to be subject to formal consultation before being adopted early next year.

Some items have already emerged, such as pedestrianisation of our city's main streets and Mayor Len Brown's line-in-the-sand city rail loop. Even more striking, however, is the vision of a two-stack tunnel under the Waitemata Harbour, rail underneath road. Other projects include pedestrian boulevards on Queen and Quay streets, a swimming pool on the end of Queens Wharf and a man-made island near Westhaven Marina.

Element magazine questioned the mayor on the sweeping changes proposed in the Auckland Plan and his intentions to drive growth of the sprawling city back into the core of the region by innovations and incentives.

Firstly, we asked about the Metropolitan Urban Limit, an invisible line around the city, which has been repeatedly breached by previous councils keen to develop rateable greenfields. "We'll pretty much maintain it," he says. "But what we're recognising is that over the next 30 years we've got another million people coming at us. So not only have we committed to that sense of a compact city and not overly allow sprawl, but we are going to have to provide another 400,000 housing units of different types over the next 30 years.


"We've calculated that we could probably do 300,000 within the present urban boundary." Element magazine readers online recently voted urban sprawl second only to traffic congestion as the most pressing issue facing the region. Asked specifically if the intention is to ring-fence large parts of Auckland, Mr Brown says: "Yes."

"We're looking basically to construct greater intensification, get a bit of height around some of our transport nodes."?Asked if the Plan will use incentives or penalties to drive change, Mr Brown says he backs Aucklanders to make the right choices once they are given the options.?"This generation coming through now and those in their 30s and 40s mostly have travelled, mostly have done gap years, mostly have had their OE. They have lived in cities overseas and like what they see, are used to living in apartments and terraced development - unlike me and my parents, who were raised in the quarter acre Kiwi paradise - so they are looking for choice. So it's not about walloping them and forcing them into situations. It's about putting up options for them and allowing them to make the choices they like."

Likewise, the Auckland Plan focuses on offering more public transport rather than discouraging cars.

The plan also aims for 37 per cent of trips to be non car-based at peak travel times over 30 years. Asked if this is realistic, Mr Brown says, "Well, I've been absolutely stunned on the uptake of public transport usage through this year in particular. We've seen historic increases, 20-30 per cent increases in the Western rail line and on the Northern busway. We're even seeing 10-12 per cent increases in our ferry service and we're a long way from even focusing on ferries."?Mr Brown is hanging his hat on a tunnel for the next harbour crossing to the North Shore, despite a strong lobby group of architects and designers behind a Centennial Bridge concept. "My preference is the tunnel. ?

"There is a much more compelling argument for the tunnel. I am going to make an assessment of global tunnel trends, in particular looking at China and what they are doing up there and they are operating off a 15m [drill] bit at this point of time in terms of their tunneling and that gives you the under and over option - over the top, car and bus and truck transportation; and underneath, rail. We would be looking to go through from the Wynyard Quarter basically taking up from Victoria Park Tunnel, going through that Wynyard Quarter through to Onewa Rd, so it's about a 3.5km tunnel."?Much of the discussion within the Auckland Plan centres on reducing the city footprint and, particularly, lowering carbon emissions to offset global warming. Mr Brown says he's unhappy this winter to notice brown haze over southern parts of Auckland, his home patch.

"Cities are leading the globe in terms of bio-diversity and sustainability and you see that through the C40 City movement [a group of large cities committed to tackling climate change, currently chaired by New York City Mayor Michael R Bloomberg]. So Auckland should lead New Zealand by taking a strong eco-city stance. Carbon discharges are very much a focus of this council. I want to reduce carbon discharges by 40 per cent over the next 20 years.

"Getting people into public transport, electrifying our train network. That's going to be brilliant and electrifying our vehicular network. People are looking to the green option in cars and I want us to show some leadership in the council. There are electric vehicles and great new technology like the HaloIPT technology coming out of Uniservices at Auckland University. I want us to trial that [with the HaloIPT technology it is possible to install pads at traffic lights, meaning cars can charge while stationery at the lights]. We need to make a stand and be committed as a green city."

Just as much as public transport, the plan focuses on making Auckland a place to traverse on foot. "I'm talking about two serious boulevards in Auckland: Quay St and Queen St. The world's most liveable city, which is my aspiration for Auckland, needs to be the world's most walkable."

Whether the Auckland Plan becomes another report of pipe dreams gathering dust amongst innumerable others in the Auckland archives is, Mr Brown says, over to the citizens.

"It's about Auckland saying we agree [with] this plan and we are going to make sure it happens; we're prepared to fund it, we're going to be innovative around funding it. I think that Aucklanders are absolutely ready to buy into a simple, clear vision going forward and together we are going to make this plan happen."