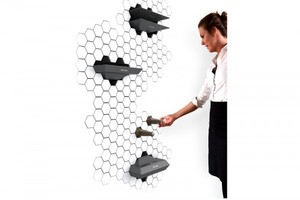 Late October, New Zealand's own Ben de la Roche of Massey University stood in front of a jury of professional designers in Milan to present his entry into the annual Global Electrolux Design Lab competition.

His entry was good enough to get him to the final for the 10th annual industrial design competition. Ben's "Impress" refrigerator submission promises to change the way we refrigerate and offers a sustainable and unique solution to food usage and storage.

"The concept for the Impress Refrigerator began as the rather immature idea of being able to physically throw your leftovers at the wall and they somehow would stay there and refrigerate," says de la Roche.