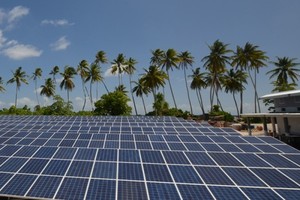 The electricity used on the Pacific island of Tokelau is now, officially, supplied solely by the sun.
On the 29th of October this year, Mount Maunganui based company PowerSmart completed PowerSmart completed a world first renewable energy project, officially making the island of Tokelau 100% solar powered.

The $7.5 million project is considered one of the world's largest off-grid solar power systems.

The company has since been awarded a project on the island of Kiribati, north east of Tokelau. They will be performing an installation on Abemama for a local school, commencing March 2012. It is exactly the same as the Tokelau system, just on a much smaller scale.

The Tokelau project is an excellent example of how small Pacific nations can lead the way on renewable energy development. Each of Tokelau's three atolls now has their own solar electricity system which will supply enough electricity to exceed current requirements, free the communities of their dependence on increasingly expensive diesel generation, and allow Tokelau to meet 100% of their climate change obligations.

Says Keli Kalolo, Faipule o Atafu and Ulu of Tokelau: "We will be saving a lot of money from solar power so that we can distribute those funds to other priorities: education, health and transport. And now we are freeing up people to take part in other projects, such as construction of schools and hospitals, instead of people having to man the power stations (generators)."

The original tender specification for the Tokelau Renewable Energy Project called for the solar power systems to supply 90% of Tokelau's annual electricity demand.
Through creative design, project management methodology, and significant research and development, PowerSmart was able to provide solar power systems capable of producing 150% of current annual electricity demand. This design will allow the Tokelauans to expand their electricity use within the capability of the solar power system and without increasing diesel use.

In October the project won PowerSmart the Cleantech and Sustainability section of the NZ Innovators Awards. The judge had this to say:

"I have never passed a maximum score in every category in two years as an awards evaluator. To me your project in Tokelau ticks every box. You have blended working in a remote location, excellence in design and engineering, economic rationale with reducing diesel costs and ongoing environmental and economic benefits. And, not least, training benefits to the local population. Brilliant example of a NZ business exporting it's skill to deliver the solution."

The isolation of Tokelau and scale of the project required significant testing and development to be conducted at PowerSmart's head office in Mount Maunganui before they moved equipment to the atolls on Tokelau and started construction. The system and components were designed to be suitable for the atoll environment and to withstand cyclonic conditions. PowerSmart persevered in creating a monitoring system that will now enable them to monitor remotely how well the system is performing. This will assist them in working with the Tokelauans to troubleshoot and diagnose any issues that might arise. The system provides an intuitive touch screen interface to monitor and control the system on the atolls.

Says PowerSmart managing director Mike Bassett-Smith, "All across the Pacific there are clear issues with the current and expected future costs of electricity generated using diesel, not to mention the environmental costs and risks of unloading diesel drums on tropical atolls. Energy costs underpin the economic and social development of these nations and making a positive impact on these issues is the single most important reason we started this business."

PowerSmart were finalists in last Thursday's Sustainable Business Network Awards. Earlier this year they were named Emerging Exporter of the Year at the BNZ Bay of Plenty Export NZ Awards. They also recently ranked 14th in The New Zealand Herald's Green 50 list of top Kiwi companies helping the environment.