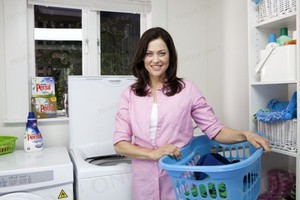 Kiwi-mum Greer Robson-Kirk is supporting Persil, to inspire New Zealanders to take actions every day in a bid to halve the environmental impact of doing laundry by 2020.

Robson-Kirk is "extremely excited" about being involved in a project that has caring for the environment as its focus, "As a mum of three, I'm very concerned about the world we are leaving behind for our kids, and the Persil Cleaner Planet Plan has given me an opportunity to get involved in making a difference."

The Persil Cleaner Planet Plan focuses on four key areas, including reducing greenhouse gas emissions, saving water, expending less energy and decreasing packaging waste. It also takes into account the entire lifecycle of each Persil product - from raw materials sourcing, manufacturing, packaging, delivery and most importantly, consumer use and disposal, which is where we can all make the biggest impact.

As part of the Cleaner Planet Plan, Persil has removed phosphate from its New Zealand manufactured laundry powders, which equates to a 32% reduction in the greenhouse gas footprint of the product. All Persil products now carry the Cleaner Planet Plan logo on-pack so you know you are buying phosphate-free.

To improve packaging waste, Persil introduced Small & Mighty concentrated laundry detergents resulting in 40% less packaging - saving the equivalent of 9.9 million plastic shopping bags every year! Not only this, reduced packaging has also led to 130 delivery trucks being taken off the road annually, which is great for reducing carbon emissions.

In order to reduce energy usage, Persil is encouraging everyone to wash full loads in cold water, which helps save power and money because most of the energy used in washing clothes is for heating the water.


For water savings, use a short or eco cycle, which typically needs 50% less water than a regular wash. If we all did this we could save 39 billion litres of water a year - that's just over 15 thousand Olympic swimming pools!

Every small step taken in the laundry can make a big difference, so visit www.cleanerplanetplan.co.nz for more information.