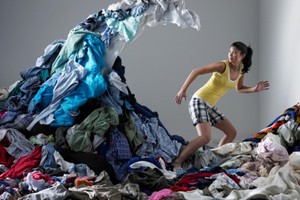 Despite best efforts to cut down on water usage in the home, a new Australian study has found our biggest contribution to water waste is as consumers of clothing, food and electricity.

When purchased by people within a household, they contribute a massive 94 per cent to a household's water usage, on average enough to fill 54 Olympic swimming pools, the study notes.

Dr Robert Crawford from the University of Melbourne is the author of the study and he says in order to produce any item, be it a t'shirt or a toaster, water is used in the manufacturing, transport and selling of the product.

"Every item or service purchased by a household has a long line of resources and water usage," he says in his analysis of direct and indirect water consumption by Australian households over a 50 year period.

Direct water consumption attributes only six per cent of a housholds usage, so while people may be making efforts to reduce water consumption, the bulk of water waste lies in products bought for the home and its occupants.

He says people will upgrade whiteware in an attempt to save water but they need to consider that the amount of water used in producing items like washing machines and dishwashers may outweigh the potential water savings.