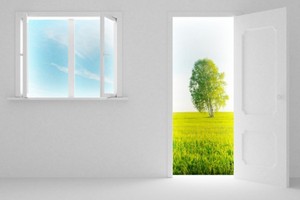 Let's look at our housing health if we want to resolve the problems with indoor air quality and New Zealand's chronic respiratory ills.

New Zealand now has a robust body of national evidence about the health benefits of warmer, drier homes with lower levels of volatile organic compounds (VOCs). They sound like the flatmates from hell and they actually are. VOCs have a low boiling point, which causes the molecules to evaporate from a product and enter the surrounding air. Many VOCs are dangerous to human health.

They include both man-made and naturally occurring chemical compounds; typically not acutely toxic, but instead have compounding long-term health effects. Globally research is linking man-made VOCs from everyday products such as paint, kitchens, furniture, plastics in computers and copiers to cancers, asthma and allergies.

Long term VOC contamination contributes to sick building syndrome - a building that actually makes the inhabitants ill. Until the recent launch of Homestar™ from the New Zealand Green Building Council we had no way of knowing if that new home or flat literally had a killer view.

Krista Ferguson, Homestar director, explains: "Homestar helps home owners make informed decisions about creating warm, healthy and comfortable homes. At homestar.org.nz it takes about 20 minutes to go through multi-choice questions about your home. You'll get a rating between 0 and 10 and a practical, comprehensive recommendations report that highlights where your home is doing well and where it needs some work."

A Homestar certification is a prudent thing to ask for if you are buying or renting a new place to live.

It affects one in four Kiwi kids and it is one of the leading causes of hospital admissions among children.
An even more alarming statistic is that Chronic Obstructive Pulmonary Disease (COPD) which few people have even heard of is the 4th leading cause of death in New Zealand. Although often undiagnosed, it affects around 200,000 kiwis over 45. COPD causes the bronchial tubes (or airways) to narrow.

The greater the narrowing, the more difficult breathing becomes. COPD is an irreversible disease but is almost entirely preventable by avoiding exposure to tobacco smoke. Occupants can take a number of precautions to try to keep their indoor air quality healthy.

The most important is the need to smoke outside as the chemicals are very damaging for small children, causing severe asthma attacks and, in the long term, even deadly COPD.

Mould should be destroyed immediately using a brand like Green Works natural multipurpose cleaner and not standard bleach which can cause even more problems. A consistent temperature in the home is also extremely important.

The World Health Organisation recommends an indoor temperature of 18 degrees and considers anything below 16 degrees potentially harmful to health. Keeping your home dry and having and having adequate ventilation will also greatly help. There are an enormous amount of household products that will make a big difference to your families' health.