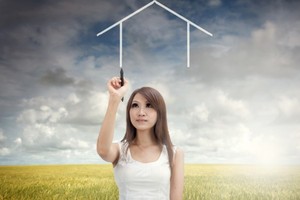 You've taken a look at the recent market valuation of the house you thought you might just be able to buy and, now, instead, you're wondering whether it might just pay to stay put and plan a 'renno'.

There are 1.6 million homes in New Zealand that can be improved - made more comfortable, warmer in winter, cooler in summer and healthier, while using less energy and water.

Living in an old home is no barrier to making it comfortable, temperate, dry and healthy for the occupants. Some of the changes you can make to improve these conditions are subsidised by the government, such as improving your insulation. ?In terms of energy efficiency, older homes generally don't perform as well, but again, there are a myriad of options for improving performance such as solar hot water heating (also subsidised) and photo voltaic panels for producing your own energy.

Converting the consumables in your home from those that are damaging to the environment - for example, types of bleach or washing up liquid that flow away, eventually to the sea - is another positive step, which is simple, cost-effective and with no loss of effectiveness. Before you set some goals it is a good idea to get a measure of your home's performance.

A great place to start is homestar.co.nz. Homestar™ is a joint venture partnership between BRANZ and the New Zealand Green Building Council. Led by these two organisations, industry professionals across the building and construction sector have developed a single residential rating tool for New Zealand's new and existing homes.

There are two parts to the Homestar™ initiative.
The first is a free, online rating tool which gives you a good idea of the performance of your home. For more detail you can have an independent certified assessment, after which your home is awarded a certified rating. ?Time to set some goals: create a wish list of what improvements you'd like to make to your home, work out your budget, and prioritise the work.

The Healthy Homes Guide will appear in Element for the next 10 months. In each feature you can find hints on larger infrastructural improvements, as well as products that fill the bill.

Coming up:

March: Water & plumbing
April: Heating
May: Insulation
June: Energy, electrics and appliances
July: Air Quality and VOCs
August: Bathrooms
September: Laundry
October: Kitchen
November: Bedrooms
December: The room outside
January: Natural swimming pools

Build it right

If you're building or renovating, there are some changes to the building laws you need to know about. From March 1, if the work you are doing affects the primary structure or weathertightness of your home you will need to use designers, builders and tradespeople who have been assessed and licensed to either do or supervise the work. Find out more at builditright.govt.nz.