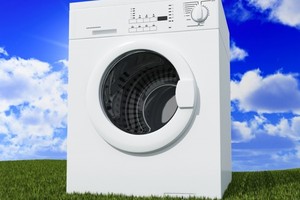 Talk about bubble-wrap building insulation and hybrid cars is hogging the headlines, and shrill debates over carbon emissions and peak oil are still heard across the airwaves, but one energy efficiency system has been around for years.

When you find out the average Kiwi fridge is about the same age as a troublesome high school student, it's little wonder some people thought New Zealanders had room to improve household energy efficiency.

But age wasn't the only thing that made some products inefficient. And it wasn't just household goods that our best-known energy efficiency rating system chose to target. Energy Star was introduced in the United States in 1992.

Thirteen years later, New Zealand's Energy Efficiency and Conservation Authority launched the system in New Zealand. The blue stickers now seen on many home and office appliances were one outcome of this promotion of energy efficiency.

The idea behind Energy Star was to help people identify the most energy efficient home and office gear on the market, said Terry Collins, EECA's general manager, products.

But to make the project work, EECA needed to get the private sector on board. A swag of companies partnered with EECA to promote the programme. These included all major heat pump brands and numerous home electronic and office equipment companies.

Collins said the response from the retail sector had also been positive, with high street retailers and big appliance sellers becoming Energy Star partners.

"They actively promote Energy Star products in their catalogues and advertising, provide in-store information for their customers, and train their staff to help customers understand the benefits of choosing Energy Star products."

Crunching the numbers, Collins said nearly 1500 models in 19 product categories, from 65 different suppliers, now had the Energy Star.
Companies who might have considered sticking their head in the sand were out of sync with legislation.

Nowadays, all computer and printing devices bought by government departments and agencies have to be Energy Star qualified.

Outside the civil service, Collins said energy rating labels were mandatory on all heat pumps, dryers, washing machines, fridges and freezers available for sale in New Zealand. For now, they're voluntary on TVs.

In combination with energy rating labels, Energy Star aimed to help people compare similar sized products, said Collins. Apart from a graded rating from one to six stars, Energy Star offered a consumption figure, measured in kilowatt hours per year.?

Collins said appliances alone used about a third of the average home's electricity bill, and as we bought more and more appliances, that share grew. Lump in the array of office machines Kiwis use every day and it was quickly apparent what a big impact inefficient, clunky old appliances could have on the economy.

Collins said only the most efficient products - the top quarter in any category - qualified for the blue star. As winter sent people scuttling indoors, taking comfort in heaters, heat pumps, hot food and the TV, surging power bills that followed could be a nasty shock.

And apart from slashing power bills, energy efficient products reduced the strain on New Zealand's energy sources - whether coal, gas or hydro-electric.

"Because they're highly energy efficient, products with the blue Energy Star mark cost less to run, can help reduce household power bills, and are better for the environment than other products," said Collins.

Efficiency savings with Energy Star:
www.energywise.govt.nz includes a running costs calculator which helps to measure the efficiency of your appliances.
Web surfers can measure up the performance of their tumble dryers, fridge/freezers, dishwashers, washing machines, air conditioners and heaters.

Here's a rough approximation of efficiency gains Energy Star-certified appliances offer:

Computers: 45% more energy efficient, depending on product configuration.
Washing machine: 45% more energy efficient.
Dishwasher: 40% more energy efficient than non-qualified models.
Heatpump: Energy efficiency in both heating and cooling modes would save around $50 per year compared to non-qualified models?
TV: 30% more energy efficient, depending on the size of the TV.
Fridges and freezers: Being Energy Star qualified could save around $100 a year, compared to the average Kiwi fridge-freezer, which is 15-year-old fridge-freezer.

List of appliances offering the Energy Star:
In the kitchen: Whiteware: dishwasher, fridge/freezer, washing machine.
In the lounge: Home entertainment: TV, Audio Visual (Home theatre, DVD and Blu-Ray players, mini-systems).
In the office: Imaging equipment, printers, copiers, multi-functional devices, scanners, fax machines.
Heating: Heat pumps, ducted heat pump systems.
Lighting: CFLs, LEDs. Computers: Monitors and displays, laptops, computers.
Water heating: Solar water heating.