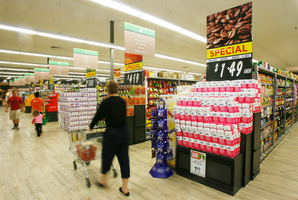 Four loaves of bread, four litres of milk and a couple of bags full of fruit and vege - that's what Auckland's unseasonably warm March was worth to Glenys Michael.
The west Auckland mum-of-two saved $51 because Auckland's warm weather meant she spent only $144 on power for her household of five in March. In March 2012, before the youngest member of the family - six-month-old Megyn-Joy - was born her bill was almost $200 for the month.
She doesn't know why her bill was down, but that doesn't make the savings any less welcome, Michael said.
"That's our fruit, veges, bread and milk shop for the week. It definitely makes a difference."
Michael is a careful budgeter and uses online electricity retailer Powershop to get the best prices, but she wasn't the only one benefiting from the series of highs that parked over the country last month.
Powershop chief executive Ari Sargent said his residential customers around the country used 15 per cent less power on average in March when compared with March 2012. In Auckland the drop was even higher, at 18 per cent, while Waikato residents consumed almost a quarter less power than the previous March.
"In the first month of autumn we typically see a modest upswing in power use, but the opposite is true this year. It's one of the few silver linings of the drought which has caused so much damage around the country."
Households were also keeping closer tabs on their use, with 20 per cent of Powershop users buying part of their winter power needs ahead of time this year, Sargent said.