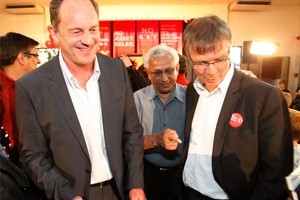 On election night, as Labour supporters waited for their leader to arrive to concede defeat, the sharks were circling.
All the Davids were there - Parker, Shearer and Cunliffe.
David Shearer arrived early. His own volunteers were there and he was fairly low key most the night.
But there was the first inkling that he might be ready to step up earlier than anticipated, when he swiftly and honestly spoke about the need for Labour to acknowledge it had lost its way.
David Parker also arrived early.
Aware he would be asked the leadership question, he had a one-sentence answer written on the back of a business card, that it was not the night to address that question and he wanted to give Mr Goff the dignity he deserved after a hard fought campaign.
David Cunliffe arrived much later, just before Mr Goff. The cameras were outside waiting for Mr Goff, so his own entry played out live on television.
He strode in with his supporters flanking him and streaming behind, cheering with balloons. He paraded down the middle of the hall, the cameras rolling, smiling, shaking hands and hugging as if Labour had won in a landslide.
Such was the hoopla, the media thought for a minute Phil Goff had arrived. He was abrupt when asked about the leadership, saying "I'm not going there tonight" and adding that it was clear Labour needed to take a good hard look at itself.
Three Davids, three very different men. At that point, everybody knew two of them wanted the top job.
But the next day, Shearer added his name to theirs. Support for him had been quietly growing among some in the wider party. He delivered a speech at a tertiary education conference which was quickly circulated. It spoke of the need to change.
The speech ended with the need to be "the voice of the dreams and aspirations of New Zealanders".
It ended with "it starts today". He might as well have added "with me". Although he denied it at the time, it was effectively his announcement of a leadership bid.
Sure enough, the next day his name was among those Goff read out as his possible replacements after he announced his own resignation.
Parker and Shearer fumbled their opening pitches. Although Parker and Cunliffe had had months to get ready for that moment, only Cunliffe spoke about it assuredly.
Parker and Shearer appeared to be taken by surprise. Shearer was far less impressive than the speech he had given. Parker was flustered and awkward. It was not until yesterday that he regained his composure and started to front his bid properly.
Now the trio - and possibly Grant Robertson if he decides to run for the leadership - effectively face an election after an election. They will travel the country together to speak to party members about what they can bring to the party.
On election night, as Labour's worst result since the 1920s came in, Mr Parker observed the obvious:
"People haven't yet come home to Labour. They will eventually."
He nicked the line from Gordon Brown, who urged Liberal Democrats upset by a coalition with the Conservative Party in 2010 to "come home to Labour".
Mr Parker would be well advised to stop calling on the UK Labour Party as an example: leader Ed Miliband took the job when he was 40 and was an adviser for Gordon Brown before he became an MP. Over here, one of Mr Parker's potential rivals, Grant Robertson, is 40 and worked for Helen Clark before he became an MP.