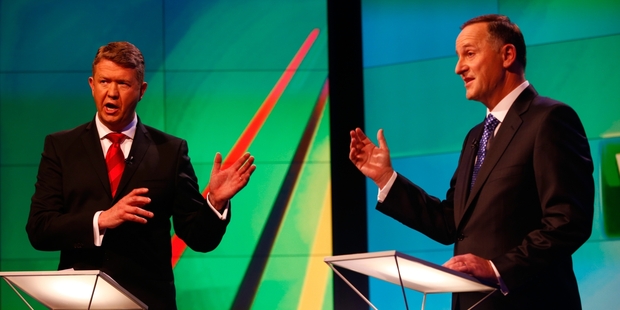 When the Wallabies drew with the All Blacks in the first Bledisloe Cup match in Sydney, it was widely considered almost as good as a win.
David Cunliffe's performance on TV One's leaders' debate was much the same - he and John Key came out with honours even, and that makes it a win for Cunliffe.
The Labour leader spent the day of the debate prepping - getting media training, running through responses to likely questions and boning up on stats.
The Prime Minister spent the day fulfilling media engagements, visiting shopping malls and "shooting hoops" in the afternoon with his son Max.
He would have been confident that he could more than hold his own against an embattled Labour leader, whose party's ratings have been falling steadily over the past few months.
But Cunliffe's homework appears to have paid off. He looked fresh and confident and was certainly aggressive, interjecting and interrupting the Prime Minister and at times, owning the airtime.
It would have been interesting to see the stats on possession of the airwaves.
Moderator Mike Hosking could have been more aggressive himself.
There had been criticism from Labour over the choice of Hosking to chair the debate. It felt he had pinned his colours to the mast by introducing Key at a business meeting and exhorting those there to vote for him.
Perhaps Hosking felt a little hamstrung - if he pulled up Cunliffe too often, the accusations of bias would appear to have some justification.
At times, it was hard to hear what anyone was saying as the three men talked over the top of each other.
I found myself bellowing "Shut up!" on more than one occasion, and I wonder if having a female moderator would have been a better idea - not because Hosking didn't do a good job, but because having a different voice in the mix would have made for easier listening.
And please, next debate, can we not have the inane questions about ideal date nights and how do you think the other performed?
People watching the leaders' debates are interested in policy. They're not interested in answers to the sort of questions that are best left to women's magazines.
Key seemed a little surprised at Cunliffe's strong opening, and he was certainly taken aback when Hosking asked him about Winston Peters' allegation that he had been approached by people from Judith Collins' office to talk about the possibility of post-election discussions.
Now that would be an unholy alliance.
It was the first he'd heard of the allegations, he said, and as he was trying to answer questions on policy, one part of his brain must have been wondering if anyone would rid him of this turbulent minister.
Cunliffe was able to maintain the moral high ground during questions relating to Dirty Politics and this was certainly where Key looked his most evasive.
But later Key scored a few points - notably on National's economic performance and reversing the exodus of New Zealanders overseas.
He even invoked the old Muldoonism of knowing the name of every person in the country who was unemployed when he said he knew the names of the people who had left the country.
Both leaders came unstuck on issues of housing affordability, and Cunliffe let a try go begging when Key was talking about immigration.
The Prime Minister told the audience New Zealand needed wealthy individuals to invest in the country. We needed their capital and we needed them to have a passion for New Zealand, he said.
That policy hasn't worked out so well when we look at the likes of Donghua Liu and Kim Dotcom, has it?
Some talkback callers criticised Cunliffe for having notes and the benefit of an adviser offering suggestions in the ad breaks whereas Key chose to wing it. But it worked for the Labour leader.
And he ended on a high note when he said although Key had done a good job leading the country, National was the past and Labour was the future.
Succinct, pithy, positive.
The only thing Cunliffe needs to keep in the back of his mind is the complete and utter drubbing the Wallabies received in their next match against the All Blacks.
Key, on form, is a frightening prospect, too. I'm looking forward to the next leaders' debate and also to hearing from the leaders of the minor parties. I feel like the election campaign has truly begun.
• Kerre McIvor is on Newstalk ZB, Monday to Thursday, 8pm to midnight.