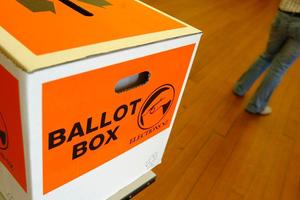 The issue for politicians this election is not whether voters will tick their box, it's whether they'll vote at all.
Belinda McCammon's tweet (@BelMccammon) summed it up for me: "Okay, NOW this election has jumped the shark". I agree. If politics were a TV show, it would be canned because the audience is tuning out.
In 2011 around 60 per cent of voters 18-29 didn't vote. It is estimated that if the youth voter turnout continues to decline at the current rate only 10 per cent of those eligible will vote in 2024.
As a young voter put it to me this week, "if you're older, richer and whiter, you're far more likely to turn up at the local hall to vote".
Long-term that's a worry because voting is habitual - if you miss your first time as a "virgin voter", chances are you won't vote in the future.
What's interesting for me this election campaign is the smart work by 22-year-old Hannah Duder, campaign manager for the Virgin Voter Collective (VVC), which is hoping to drive out 18,000 first-time voters on September 20.
In an increasingly close and complex MMP election, "virgin voters" and those under 30 who tune in have the power to take the kingmaker crown off Winston Peters' senior supporters. Young people make up 20 per cent of the voting age population. Those who are 65+ make up only 15 per cent.
VVC are engaging on social networks like Facebook in a way that makes politics relevant, easy, and understandable.
Duder's "Candidate" app has gamified finding your political match.
That's smart because Auckland University's Dr Jennifer Curtin says young voters aren't interested in old-style Left and Right politics, they're "much more interested in causes than generic political party platforms".
They are also used to a seamless experience between their online and offline lives - so moving to mobile voting is the way of the future.
• Trish Sherson is an owner of public relations firm Sherson Willis and is a former parliamentary press secretary and producer for TVNZ news and current affairs.