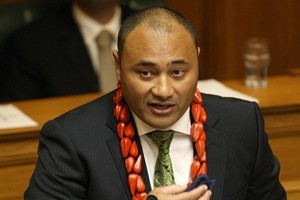 Love hearts, speech bubbles, Pacific greetings and the Prime Minister's reference to the Mad Butcher as "my good friend" were among the many things that fell foul of the election watchdog's rulebook.
The 710 advisory opinions issued by the Electoral Commission last year showed that it took a hard line on a new rule which prevented MPs using Parliament-funded material with election overtones while campaigning.
The opinions, released to the Herald under the Official Information Act, showed numerous National MPs had to get rid of photos with leader John Key on their taxpayer-funded advertising and remove references to the PM's website and newsletter.
It was the first election for which the commission had issued the opinions, and the documents showed the Parliamentary Service had told all MPs they needed an advisory from the commission before their signs, letterheads and advertising would be funded during the three-month election period. The bulk of the requests to the Electoral Commission were from MPs in that situation.
Among the more quirky decisions, the Prime Minister had to remove the words "my good friend" in reference to the Mad Butcher, Sir Peter Leitch, for a blurb he wrote for a fundraiser.
And list MP Nikki Wagner, now the member for Christchurch Central, was told that the use of a love heart on her email signature, car signage and nylon vests "Love [loveheart] Christchurch" was election advertising.
The Electoral Commission found that most slogans were "election advertising" including "working for you" and regional references such as "Proud to be South D!" from Dunedin South MP Clare Curran.
The Maxim Institute was warned a reference to "horse poo" at the beginning of a presentation could be associated with a political party which appeared later in it.
Sam Lotu-Iiga's ad for Pacific newspapers did not pass because of a photo of John Key beside him and the use of several Pacific greetings such as talofa lava and bula, which the commission said evaluated National's success and the party's policy platform in further Pacific issues.
Labour leader Phil Goff was told a letter to Muslim constituents to celebrate the end of Ramadan was an election advertisement because he thanked the Muslim community for its contribution and the "good relationship" he had with them.
Labour MP Rajen Prasad's ad featuring himself with Phil Goff and Diwali messages was deemed an election advertisement, as was National's Diwali ad because of the big photo of John Key.
School newsletter advertising pages were problematic: a parent complained about an advertisement for Phil Goff in one. Although Mr Goff's ad met the rules, the words "please support the advertisers who support our school" at the top was deemed to encourage people to vote for the Mt Roskill MP.
National MPs Shane Ardern and Bill English both had a similar problem with school newsletters.
Websites, Twitter and Facebook were regular features. MPs were allowed to list a website but not encourage people to visit them. Techniques ruled out included using the word "visit" and putting a speech bubble around the website name - as Labour MP Jacinda Ardern was told.
National's Nikki Kaye was told she could not use "follow me on Twitter" or "join me on Facebook", but her colleague Cam Calder got away with "Connect with Cam on Facebook".
Surveys with politically loaded questions were frowned on, as was any reference to policies or rival parties.
In many instances, the MPs changed the material and resubmitted it until it was approved so the Parliamentary Service would fund it.
Anything considered election advertising must be included in a party or candidates' spending limit and will not be funded by the Parliamentary Service during the election period.
Among other materials sent in were wine bottle labels for fundraisers, congratulations certificates to constituents and Trevor Mallard's "ecobags" - red bags with his name and contact details including a link to Labour MPs' Red Alert blog. None were considered election advertising.
RULED OUT
What the Electoral Commission considered election advertising:
* "My good friend, the Mad Butcher" - Prime Minister John Key blurb.
* Busway Now - Phil Twyford ad for public meetings on Auckland transport.
* "It's the economy, stupid" - Invitation to David Cunliffe meeting.
* "Talofa lava, malo, malo e lelei, taloha, fakaalofa atu, bula, kia orana" combined with photo of John Key: Sam Lotu-Iiga ad.
* 0800 4 B ENGLISH on Bill English's fridge magnet.
* nick4nelson in the email address and website for Nick Smith.