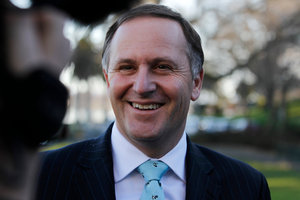 Entries are now open for the prestigious Prime Minister's Science Prizes, and a former winner says New Zealand scientists need to put aside fears of Tall Poppy Syndrome and take a shot at the $1 million on offer.
The prizes, launched five years ago, aim to highlight how science underpins innovation and helps build a more competitive and productive economy.
Andrew Coy was part of a team of Victoria University researchers led by the late Sir Paul Callaghan who won the most valuable prize - $500,000 - for their work researching magnetic resonance. Their discoveries are widely used in medical magnetic resonance imaging (MRI) and materials science, and the technology they have developed is earning millions of dollars.
Dr Coy, who is the chief executive of technology company Magritek where he and the team are continuing their work, said the majority of the prize money was given to Victoria University to set up a PhD scholarship in magnetic resonance. A small amount was kept by the team, but by far the greatest benefit of the prize was what it meant for their reputation.
"Shortly after we got that award we went to a very big conference in China and it was just great to be able to have pictures of our team standing there with the Prime Minister of New Zealand. In some countries that can be a very powerful thing. From a reputation and company PR point of view it was unbeatable, just fantastic."
The company had continued to develop and grow its revenue, in no small way due to the prize.
"You win a national science prize and people do take notice and take a second look."
Dr Coy had one piece of advice for scientists thinking of applying for the prizes: "Sometimes in New Zealand we think it's bragging or a bit egotistical to talk very positively about what you're doing, but it's absolutely essential if you want people to know about what's happening in your area of science. Get out there and tell the story about how it has an impact on society and how it's going to have a positive impact for New Zealand," he said.
"The ironic thing is in New Zealand we're incredibly good at it - we do all kinds of innovative, creative, really fantastic things when you compare them to the rest of the world. But for some reason we don't jump up and down and celebrate them as much as we could."
Entries can be lodged up until July 17.
The prizes:
- The Prime Minister's Science Prize, $500,000
To an individual or team which has made a transformative discovery or achievement in science that has had a significant impact on New Zealand or internationally
- The Prime Minister's MacDiarmid Emerging Scientist Prize, $200,000
To an outstanding emerging scientist undertaking research for a PhD or within five years of the date of the award of a PhD
- The Prime Minister's Science Teacher Prize, $150,000
To a science teacher for outstanding achievement in teaching science
- The Prime Minister's Science Media Communication Prize, $100,000
To a practising scientist who is an effective communicator, to provide them with an opportunity to further develop their knowledge and capability in science media communication
- The Prime Minister's Future Scientist Prize, $50,000
To a secondary school student for outstanding achievement in carrying out a practical and innovative research or technology project.
- APNZ