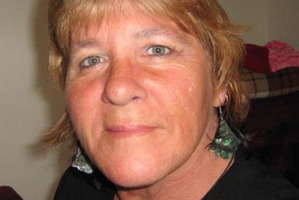 A teacher aide about to go on her first overseas trip fatally choked at her farewell dinner.
Shelly Brown's children had put their money together for the 49-year-old's "delayed OE" in Europe as a gift for her gaining NCEA level 2.
The mother-of-five, who worked mostly with special needs children at Birkenhead College, had left school at 15 but had decided to finish her schooling.
She had been having a farewell dinner with her ex-partner Wayne Tahitahi in Birkdale on Saturday night when a piece of meat lodged in her throat.
"It's really surreal at the moment," Mr Tahitahi said. "We were just having a quiet night together on Saturday."
Ms Brown was taken to hospital where she later died.
"She was going on her delayed OE," Mr Tahitahi said.
"She had always wanted to do it and she was really excited about it. Prior to this it was the happiest I had seen her, she was just really enjoying life and she was always happy and always wanting to help people.
"She just loved our kids and loved our grandkids and the kids at the college loved her to bits."
The couple were together for 12 years and jointly raised their five children from previous relationships.
Ms Brown's death was the second tragedy for the school last week, after principal Tim Mathewson's daughter Chloe was fatally attacked by dogs on Good Friday.
The school has held special assemblies for the two women and sent notices home to families to inform them about the tragedies, and were working with counsellors to give students and teachers support.
Tribute books had been set up for the Mathewson and Brown families, and donations collected.
Acting principal Rob Page said Mrs Brown worked closely with special needs students and coaching a rugby team each year.
"She lived life 100 per cent, she was larger than life. Her death has had a big impact on the school and a lot of the ex-students she has worked with over time," he said.
Her children and stepchildren had all attended the school where she taught for 12 years.
"The family was so proud of what she had achieved that they shouted her this trip," Mr Page said. "It's unbelievable to have that sort of dream plucked away from her like that."
A service will be held tomorrow.
Another woman died after choking on a piece of meat last month. Natalie Sturt, 40, of Mission Bay ran outside to seek help when it became wedged in her throat.